UW-RF Home > University Communications Home > This Month's News Releases
University Communications
For more information contact news@uwrf.edu.
Student Group Helps Kenyan Orphans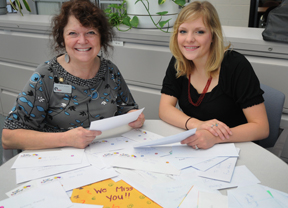 JUNE 5, 2009 | Soon Kenyan orphans will be opening boxes of school supplies due to the efforts of the Tomorrow's Educators student group in the College of Education and Professional Studies at the University of Wisconsin-River Falls.
This summer Linda Alvarez, a UWRF study abroad advisor, and UWRF education Professor Jose Vega, are delivering the items to the children through the organization Pambazuka Partners, formerly affiliated with an organization called Lecden.
Andrea Turek, (left) a junior at UWRF from Elk Mound and the president of Tomorrow's Educators, and Alvarez (right), review letters from the children since the student group began pen-pal and donation program in December 2007. Alvarez has traveled to Kenya multiple times and works with a non-governmental organization to help establish a healthier lifestyle for the citizens of Kenya.
"After listening to Linda speak about her efforts in Kenya, I was inspired to help and realized that I could be a part of something more and really help people around the world," says Turek. When the pen-pal program became established, Turek then decided to get Tomorrow's Educators involved.
The group sent pencils, crayons, books, notebooks, and personal hygiene products. "Our main focus," says Alvarez, "is to serve industrious communities who want to pull themselves out of poverty, we are offering a hand up, not a hand out."
One challenge with sending the items, said Alvarez, is that the Kenyan government is taxes the products when they reach their destination. "Since we are a non-profit group we are not able to continue to pay for the release of the boxes in Kenya."
As a way to over come the financial difficulties that the group is facing, local Wisconsin daycare centers have been hosting cookie sales to raise money for shipping of the products. "They have raised almost $100, which may not seem like a lot here, but in Kenya it can purchase a Christmas feast and extra school supplies," says Turek.
Turek says the group feels good about making a difference in the lives of children around the world. "It does a lot of good for many people," says Turek. "What inspired me the most was watching a video about children in Kenya. They are so happy even when they have basically nothing. The more we can do for these children the better."
Tomorrow's Educators include: Laurie Cicchese, North St. Paul; Mandy Heitman, Lake City, Minn.; Holly Knudtson, Whitehall; McKenzie Kolles, Monticello, Minn.; Brittany Metz, Medford; Mindy Rudiger, Menomonie; Alison Stueber, New Ulm, Minn.; Adam Sumser, Princeton, Minn.; Kelly Van Haren, Oconto Falls; Kaitlin Webb, River Falls; Bobbi Wellnitz, Orfordville; and Katherine Zabel, Elk Mound.
-30-
Last updated: Thursday, 22-Apr-2010 16:09:42 Central Daylight Time