UW-RF Home > University Communications Home > This Month's News Releases
University Communications
For more information contact news@uwrf.edu.
CAFES Honors Individuals for Service
JUNE 5, 2009 | The University of Wisconsin-River Falls College of Agriculture, Food and Environmental Sciences has given its inaugural Outstanding Service Award to the UWRF rodeo team coach and the owners of Crystal Cave in Spring Valley.
A new award, the Outstanding Service Award was established in 2008 to recognize individuals or groups that have made significant contributions to the college in time, monetary donations and/or other support of CAFES programs, student, faculty and staff. The recipients are Todd Kirschbaum, and Jean and Blaze Cunningham.
Kirschbaum is the owner of Circle K Electric in Prescott. He helped the UWRF facilities management department design a new electrical and lighting system in the new rodeo arena and has donated time and funds and coaching expertise to the rodeo program, achieving the distinction as the largest monetary donor to the program. Along with sponsoring one performance a year, Kirschbaum also uses his personal vehicles to haul the students' horses and equipment to the rodeos.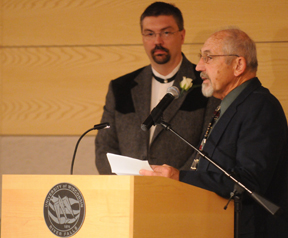 Former Rodeo advisor and Professor Emeritus Anthony Jilek (left, at microphone with Kirschbaum) said: "Todd has been an inspiration to our students and has enhanced the team and club. He has given unselfishly of his time and resources for the club, CAFES and the university."
Three members of the UWRF Rodeo Club agree in their nomination letter: "Todd has an amazing ability to work extremely well under pressure," wrote. "Todd continually encourages and includes every individual, pushing us to reach our greatest potential. Though he encourages and includes every individual, Todd also embraces team camaraderie. It is rare to find an individual as dedicated, loyal and passionate."
Kirschbaum has been involved with the Rodeo Club for more than a dozen years. "The one thing I appreciate most about Todd is his dedication and commitment to UWRF students," said Nathan O'Connor, an animal science professor and Rodeo Club advisor. "It doesn't matter to Todd if they are either the best or most novice rider on the team – he treats everyone the same. He makes sure everyone gets a chance to compete to their greatest potential." O'Connor continued: "Not only have Todd's contributions had a tremendous affect on the lives of hundreds of students, but his family values will leave a lasting impression as well."
Jean and Blaze Cunningham are the co-owners of Crystal Cave in Spring Valley. Both are professional geologists. Jean is a UWRF alumnus, graduating in 1974 with a degree in earth science, and has served on the college's advisory board. Having worked at Crystal Cave as her first job as a teenager, Jean met Blaze while working for an oil company and persuaded him to leave the "oil patch" when the property came up for sale. They bought the property in 1986 and created a series of engaging, geologically accurate tours.
Six UWRF faculty members, including William Cordua, Robert Baker, Holly Dolliver, Michael Middleton, Kerry Keen and Ian Williams, wrote a letter of nomination for the Cunninghams. They are instrumental to "... science education in the area. They host hundreds of school groups of all ages yearly," and "encourage the local caving community to explore and expand knowledge of the cave."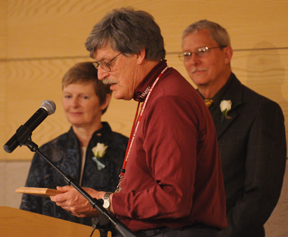 Jean was instrumental in encouragement and support to Cordua (pictured, right, at microphone, with Jean [left] and Blaze [right] Cunningham in the background) for the creation of the Pierce County Geological Tour CD, which has aided in bringing visitors to the area as well. "The Cunningham's efforts have thus significantly enhanced the science literacy of the public in this region," they wrote. The Cunninghams give UWRF students a significant discount on the admission and allow groups to do "wild caving," which is exploring closed sections of the cave where pristine cave features are preserved.
The caves are available for geology students doing various undergraduate research projects as well, the nominators wrote, and the cave has been a destination for regional geology conference hosted by UWRF and other organizations. In addition, many UWRF students have been hired as tour guides by Crystal Cave, which provides them with geology-related employment as well.
-30-
Last updated: Thursday, 22-Apr-2010 16:09:41 Central Daylight Time