UW-RF Home > University Communications Home > This Month's News Releases
University Communications
For more information contact news@uwrf.edu.
Student To Compete in College Rodeo 'Rose Bowl'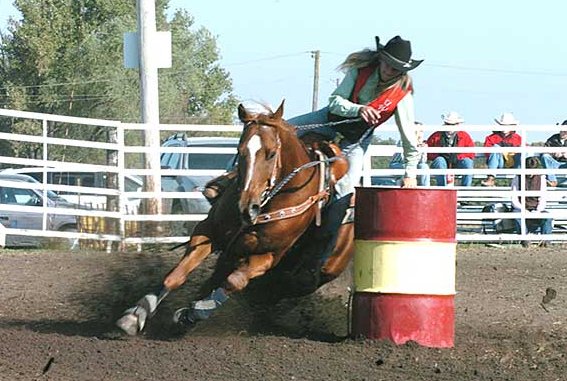 JUNE 1, 2009 | Jordan Cook, a freshman animal science equine major at the University of Wisconsin-River Falls from Oconto Falls, has qualified to compete in barrel racing at the 11th annual College National Finals Rodeo (CNFR) to be held June 14-20 in Casper, Wyo.
Cook will be competing in the event with her horse, "Twister," that she has owned and trained for the past 11 years. Cook said she is very eager to compete in this event her freshman year.
"I want to thank Coach Todd Kirschbaum and many of the rodeo team members and my parents for helping Twister and I get where we are today," she said.
Says Rodeo Club advisor Nathan O'Connor, "I am very excited about Jordan competing at nationals. She worked very hard this past year to qualify. I'm extremely proud of her. This will be very competitive and I think she has an outstanding chance of doing very well."
CNFR is considered to be the "Rose Bowl" of collegiate rodeo. Individual event champions are recognized in nine different events. National team champions are also awarded to top men's and women's teams. More than 400 men and women from some 100 universities and colleges compete by invitation if they have qualified in an event during the year.
To qualify, the rider must be one of the top three students in each event or be in the top two men's and women's teams. Cook competed in 10 rodeos during the year and was one of the top three in the barrel-racing event.
Along with the prestige of begin invited to the competition, students also compete for more than $200,000 in scholarships.
-30-
Last updated: Thursday, 22-Apr-2010 16:09:40 Central Daylight Time