UW-RF Home > University Communications Home > This Month's News Releases
University Communications
For more information contact news@uwrf.edu.
Classes Donate to UWRF Food Shelf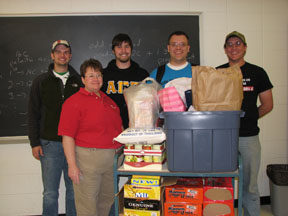 MAY 15, 2009 | Students (L to R: Leonard Polzin, a junior majoring in dairy science from Cadott, food science Professor Bonnie Walters from Glenwood City, Tryston Beyrer, a sophomore majoring in crop and soil science from Colfax, Andrew Christenson, a junior majoring in dairy science from Amery, and Mike Weber, a senior majoring in agricultural studies from Mondovi) in Bonnie Walter's agricultural biochemistry classes in the College of Agriculture, Food and Environmental Sciences at the University of Wisconsin-River Falls have been collecting items for the River Falls Community Food Pantry. "There really is a need for the food items even if you can't see it," Walters said. "The need really starts to impact you when you see the families standing in line waiting to get their food for the week." Together, Walter's classes have collected 483 pounds of food and are anticipating surpassing more than 500 pounds by the end of the semester.
-30-
Last updated: Thursday, 22-Apr-2010 16:09:39 Central Daylight Time