UW-RF Home > University Communications Home > This Month's News Releases
University Communications
For more information contact news@uwrf.edu.
Commencement Speaker Urges a Life of Few Regrets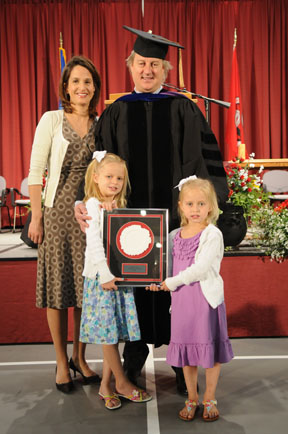 MAY 18, 2009 | In a commencement speech sprinkled with puckish humor and full of authentic advice, the 2009 Distinguished Alumnus Mark Lacek told almost 700 undergraduate and graduate students at the University of Wisconsin-River Falls May 16 to try and live a life of few regrets.
"We don't really regret the chances we take or our failures or dead-ends in life, but ultimately we regret the chances and the risks never taken," said Lacek, an entrepreneur who created a noted career in the loyalty marketing industry and who calls himself a "small town Sconnie boy."
"It is tough out there, but don't spend a lot of time thinking about it," said Lacek. "There is a sense of hope and positivity in this country that I haven't seen in years. The opportunity to control your own destiny and create the world you would like has never been greater."
Lacek who grew up in Mercer, a town with "one grocery store, two gas stations and 12 bars" recalled spending one day in a Wall Street investment banker's office getting rejected for a $25 million loan to buy Sun Country Airlines only to fly back to Wisconsin the next for the deer hunting opener. "I got an 8-point buck and had a great day of hunting sitting on my favorite stump in a snowstorm with my Dad. No regrets," he said.
Lacek co-founded the Lacek Group Worldwide, managing loyalty programs for such global brands as Delta Airlines and National Car Rental. He has founded several technology and marketing companies and is a co-founder/managing partner of Denali Marketing and co-founder/chairman of BidPal Technologies.
Chosen by Advertising Age magazine as "one of America's best and brightest" for developing WorldPerks, Northwest Airlines' frequent flyer group, and named Ernst & Young's 1998 Entrepreneur of the Year, Lacek said he is most proud of a nonprofit organization he founded in northern Wisconsin with his wife, called Faith's Lodge, which serves as a healing retreat for families with a child coping with a serious illness or who have lost a child. As the only facility of its kind in the country, Faith's Lodge has been recognized on the "Today" show.
Lacek, who holds an M.B.A. from the University of St. Thomas, spoke at both the morning and afternoon ceremonies and garnered standing ovations for his strong message of having fortitude in the face of challenge, following one's passion, understanding what really matters and living a life of few regrets.
"It's not about the stuff and the prestige," he said. "Believe in your higher power, as we are just passing through this life. Love your mom and your dad, for they are the true lighthouses in your life. Be good to your sisters and your brothers as they are your true blood and from them comes your soul. Treasure your true friends as they are the real gold in your life and never let them go. … Every day matters."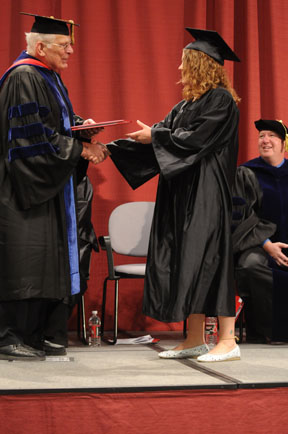 On stage during the afternoon ceremony to shake Lacek's hand once more was Chancellor Emeritus George R. Field, who led UWRF from 1968 to 1985. Field was chancellor when Lacek graduated with a degree in economics from UWRF in 1979. The retired chancellor returned to bestow a bachelor's degree in communicative disorders to his granddaughter, Carey Field.
During his almost 20 years as chancellor Field also awarded undergraduate degrees to his wife, Marcella, and son, John. "I think it's exciting to have all these years tied up in this university, which I think is a good university in a nice town. To think I've lived long enough to do all this is exciting," said Field.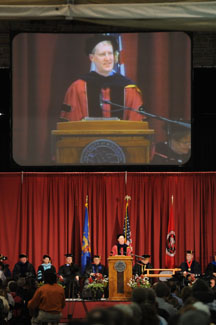 Daniel Marchand, an associate professor of chemistry who received the 2009 Distinguished Teacher Award, also was recognized at the ceremony. A member of the UWRF chemistry department since 2001, Marchand serves as coordinator of the university's Science Day and chair of the Faculty Senate external relations committee. He also is a member of SciTAC, a regional high-tech economic development group and is active as a private consultant to biotechnology companies.
Marchand, who holds a B.S. from St. John's University and a Ph.D. in medicinal chemistry from the University of Minnesota, told graduating seniors to "treasure the path and enjoy life." He will be the December 2009 commencement speaker at UWRF.
Some 602 undergraduates and 75 graduate students walked across the Knowles Center stage to confer their degrees, welcomed by Chancellor Connie Foster during the morning ceremony and Provost Terry Brown in the afternoon. Veterans and active and non-active military personnel at the ceremony were recognized in honor of National Armed Forces Day.
David Rainville, faculty senate chair and professor of chemistry, and Cindy Bendix, student senate president and junior communications student major from Sturtevant, also congratulated the graduates.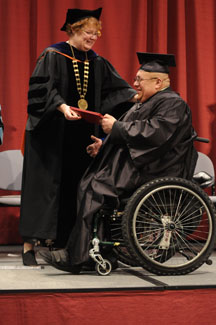 Candidates for degrees were presented by Dale Gallenberg, dean of the College of Agriculture, Food and Environmental Sciences; Brian Schultz, dean of the College of Business and Economics; Doug Johnson, director of graduate studies; Brad Caskey, dean of the College of Arts and Sciences, and Faye Perkins, dean of the College of Education and Professional Studies.
Charles Palmer, chair of the UWRF Foundation Board of Directors, welcomed the graduates into the UWRF Alumni Association. Special recognition was given to the UWRF class of 1959, who marched in the ceremony. The students will have their degrees officially conferred in August.
Photo captions:
Top, right: The 2009 UW-River Falls Distinguished Alumnus and commencement speaker Mark Lacek gave graduates a message of fortitude in the face of challenges at spring commencement. After the death of their first child, Lacek and his wife, Susan, founded a nonprofit organization in Webster, Wis., called Faith's Lodge, to help families with a child coping with a serious illness or who have lost a child. Clockwise, L to R: Susan, Mark, and their daughters Emmy and Ally.
Center, left: Chancellor Emeritus George Field, who served UW-River Falls from 1968 to 1985 and presided over more than 30 graduation ceremonies, returned to May 16 commencement at UWRF to hand a diploma to his granddaughter, Carey Field, both of River Falls.
Center, right: The 2009 UW-River Falls Distinguished Teacher, chemistry associate Professor Dan Marchand of Hudson, told students at the UW-River Falls spring commencement to "treasure the path and enjoy life." Marchand will be the speaker at the winter commencement ceremony in December 2009.
Bottom, left: UW-River Falls spring commencement fell on National Armed Forces Day and a moment was taken to recognize veterans and active/non-active military personnel in the audience. McNair Scholar and U.S. Marines veteran Eduardo Figi, a political science and International Studies major from River Falls, took the stage to receive his diploma from Provost Terry Brown.
-30-
Last updated: Thursday, 22-Apr-2010 16:09:38 Central Daylight Time