UW-RF Home > University Communications Home > This Month's News Releases
University Communications
For more information contact news@uwrf.edu.
Students Raise Money for Local Food Pantry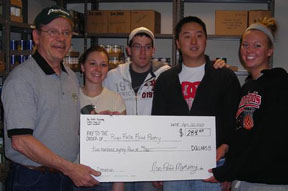 MAY 12, 2009 | University of Wisconsin-River Falls Professor David Bonko's nonprofit marketing communications class is learning first-hand how to give back to the community.
To give students to an opportunity to gain hands-on experience by helping nonprofit organization, Bonko divided the class into groups and assigned each a nonprofit organization to work with for the duration of the semester. After an initial meeting with their partnering organization, each group decided goals and objectives on how to benefit their nonprofit.
At the end of the semester each group gave a half-hour presentation on the organization's background, objectives of the project, tactics enacted to meet objectives, project outcomes, and what was learned.
One group in the class organized two fundraisers during the semester, garnering $284 for the River Falls Food Pantry. (Pictured, L to R: Rick Pechacek, manager of the River Falls Food Pantry, Emily Koser, a marketing communications major from Almena; Elliot Kerr, a marketing communications major from Hastings, Minn.; Christopher Plummer, a marketing communications major from River Falls; and LeAnn Waschbusch, a marketing communications major from Minneapolis.)
According to River Falls Food Pantry Manager Rick Pechacek, every $1 that is donated to the organization can be turned into $10 worth of food. This means the food pantry will be able to purchase $2,840 worth of food from the studentsí donation.
The River Falls Food Pantry is located at the Ezekiel Lutheran Church on Second Street in River Falls. To make a donation, please contact Pechacek at 715.425.8294.
-30-
Last updated: Thursday, 22-Apr-2010 16:09:38 Central Daylight Time