UW-RF Home > University Communications Home > This Month's News Releases
University Communications
For more information contact news@uwrf.edu.
Distinguished Teacher Named at UWRF
MAY 8, 2009 | Chemistry Associate Professor Daniel Marchand has been named the 2009 University of Wisconsin-River Falls Distinguished Teacher.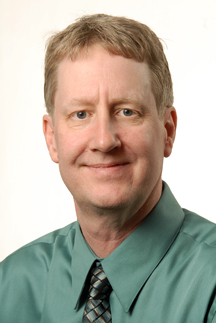 Interim Chancellor Connie Foster announced the selection for the highest award that can be presented at UWRF.
"Dan is a dynamic faculty member that is connected to nearly every role this university plays," said Foster. "Whether you are a first-year student at UW-River Falls, an industry partner in the St. Croix Valley, or a chemistry educator anywhere in the country, there is a good chance that Dr. Marchand's tireless efforts as an educator and a researcher have had increased your chances for success."
Graduating seniors and recent graduates nominate the distinguished teacher.
"There are many reasons I feel Dr. Marchand is more than deserving of this reward," said one of many nominators. "Some of them include his delightful attitude in the classroom, his willingness to go out of his way to help his students, and how he can always manage to help you make sense of the most complicated topics. He has assisted me with my search of graduate schools, when I [was] not even a chemistry major nor his advisee. ... He contributes to UW-River Falls exactly what we strive to stand for as a university."
A member of the UWRF chemistry department since 2001, Marchand, of Hudson , serves as coordinator of the university's Science Day and chair of the Faculty Senate external relations committee. He also is a member of SciTAC, a regional high-tech economic development group and is active as a private consultant to biotechnology companies, including BioDiagnostics and Interfacial Solutions in River Falls.
Marchand is an organizer for the Minnesota Chromatography Forum, has been involved in the UWRF First Year Experience, a program designed for freshman retention, and, with his academic department, in the development of a new "Organic First" chemistry curriculum funded by the National Science Foundation, which has potential to be a national model for higher education chemistry curriculum.
On being selected for the award, Marchand said: "I was both pleased and surprised. While I was in industry for 10 years prior to coming to UW-River Falls, I had taught for brief stints. I love teaching, come from a family of teachers and was very excited to come back to UWRF, the Midwest and the sensibility of the Midwestern spirit. To put it simply, I truly love teaching at UWRF."
Marchand's research interests include the development of high-resolution chromatographic methods for the analysis of biomolecules. "As an analytical biochemist, my interest is looking at molecules with some type of biological activity that are often present at very low concentrations. As chemists, when we look at new pharmaceuticals, we show how they appear in the body, where they appear in the body and help improve the methods for doing that."
Prior to joining UWRF, the St. Paul native worked as the lab director for LC Resources Inc., and taught at Linfield College, both in Oregon. He holds a B.S. from St. John's University and a Ph.D. in medicinal chemistry from the University of Minnesota. He also completed post-doctoral studies at Oregon State University. In addition to receiving numerous grants for his research and instruction at UWRF, Marchand has received a National Research Service Award from the National Institutes of Health and the College of Pharmacy Melendy Award from the University of Minnesota.
At UWRF Marchand teaches introductory general chemistry, general chemistry, general organic chemistry, pharmacology and separation science laboratory, a new course he designed that emphasizes the methods of analysis related to problems in biochemistry and biotechnology. He has presented research at numerous conferences, and published several papers in the "Journal of Chromatography A," including two with his students, "Relevance of pi-pi and dipole-dipole interactions for retention including on cyano and phenyl columns in reversed-phase liquid chromatography" and "Slow equilibrium of reversed-phase columns for the separation of ionized solutions."
"I find working with the students to be rewarding and to be gratifying, especially the collaborative projects involving outside researchers and undergraduates," he says.
Marchand says enjoyment also comes from helping non-majors understand the complex world of chemistry. "Our chemistry department has a high service component. The large majority of students that I encounter don't intend to major in chemistry, and for them chemistry is a challenge. And I think my strength is that I support them in meeting that challenge."
-30-
Last updated: Thursday, 22-Apr-2010 16:09:37 Central Daylight Time