UW-RF Home > University Communications Home > This Month's News Releases
University Communications
For more information contact news@uwrf.edu.
UWRF Scores High at Math Modeling Contest
By Andrew Barker
University Communications
APRIL 27, 2009 - The University of Wisconsin-River Falls mathematics department had six students in two teams compete in the 2009 Mathematical Contest in Modeling held on campus.
This year 1,675 teams representing 13 countries participated in the contest, with competition via the Internet. The "Meritorious" designation is the second highest award, and bestowed to only the top 18 percent of teams.
Students John O'Brien-Schroeder of Hudson (pictured, right), Joleen Homeier of Hudson (pictured, left), and Nick Weber of Stillwater , making up team No. 4,218 in the contest, won the "Meritorious" designation. They solved a problem about energy usage for telephones, analyzing multiple costs of cell phones versus landlines, including maintenance and infrastructure costs.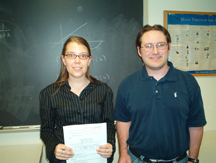 In their paper, "Energy and the Cell Phone," they explained their approach and considered population and economic growth to predict energy required to power telephones for the next 50 years.
The second UWRF team consisting of David Peschman of Maple Grove, Minn., Jessica Yost of Eau Claire, and Jessica Klemz of Blaine, Minn ., received the designation "Successful Participant" for their paper on the same problem.
The students prepared for the contest by completing an independent study in mathematical modeling with their advisor and math Professor Kathy Tomlinson of Hudson .
"The Mathematical Modeling Contest is a unique opportunity for students to work together to synthesize their computing and writing skills with their knowledge of mathematics in real-world settings," said Tomlinson. "I am very proud of all of the UWRF students who participated in the 2009 contest, and I am especially pleased about the meritorious designation that John, Joleen and Nick received."
For more information contact Tomlinson at Kathy.a.tomlinson@uwrf.edu or call 715-425-3259.
-30-
Last updated: Thursday, 22-Apr-2010 16:09:36 Central Daylight Time