UW-RF Home > University Communications Home > This Month's News Releases
University Communications
For more information contact news@uwrf.edu.
UWRF Staffer Receives Outstanding Woman of Color Award
By Linda Abel
University Communications
APRIL 27, 2009 | A University of Wisconsin System 2009 Outstanding Women of Color Award was presented to Njia Lawrence-Porter, a student services program manager in the Academic Success Center at the University of Wisconsin-River Falls. Lawrence-Porter received the award at UW System Women's Studies and LGBTQ conference at the Lowell Center on the UW-Madison campus on April 4.
Lawrence-Porter (Pictured right with Rebecca R. Martin, UW System Senior Vice President for Academic Affairs) holds a B.S. in accounting from the University of Missouri-St. Louis (UMSL) and a master's degree in African and African-American studies from Cornell University.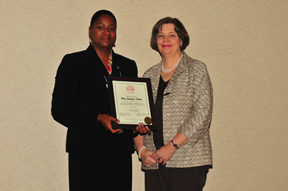 She started at UWRF in August 2005 as the assistant director of the McNair Scholars program. Prior to joining UWRF, Lawrence-Porter worked as a counselor with Student Support Systems in TRIO program at UMSL.
TRIO programs, which started in the 1970s, are to give students from low-income families access to higher education opportunities. At UWRF, TRIO programs include the Ronald E. McNair Scholars Program, Upward Bound and Student Success Services.
After receiving her degree in accounting, Lawrence-Porter said she decided to change career fields to work with students in higher education.
"I wanted to impact people directly, particularly college students and people of color, and help them reach their full potential," she says.
When the position with the McNair Program at UWRF opened up in 2005, Lawrence-Porter said she jumped at the chance. "I grabbed the opportunity to work in the TRIO program that I had been dreaming about since its inception in the late 1980s. It isn't very often that a person can live where they want and do what they love everyday.¨
The McNair Scholars Program on campus offers opportunities to outstanding students who have the ambition to reach their full potential through earning a doctoral degree.
Lawrence-Porter also is the advisor for the UWRF Black Student Union and also is a supporter of the Society for Undergraduate Research, Scholarly and Creative Activities (SURCA).
Lawrence-Porter was nominated for the Outstanding Women of Color Award for the impact she makes in many areas of campus.
"Njia's contributions to the UWRF campus transcend the bounds of her job title,¨ wrote Greta Gaard, an assistant professor of English at UWRF, in a nomination letter. Faculty in the physics department at UWRF also wrote: "We have seen tremendous gains in the organization of the program, and its visibility on and beyond the campus. The result has been better prepared students with outstanding opportunities at premier institutions around the country.¨
"I was in awe when I found out that I was chosen,¨ said Lawrence-Porter. "I just do my job to my best abilities. It is nice to know that people are moved by what I do; this means a lot to me. I give a great deal of credit to my mother, who made me the woman I am today; she would be very proud of my accomplishments.¨
-30-
Last updated: Thursday, 22-Apr-2010 16:09:36 Central Daylight Time