UW-RF Home > University Communications Home > This Month's News Releases
University Communications
For more information contact news@uwrf.edu.
UWRF Symphony Band Presents the Music of Living Composers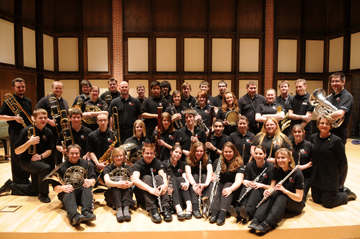 APRIL 27, 2009- The University of Wisconsin-River Falls Symphony Band will present "A Celebration of Living Composers," a concert featuring the music of notable current composers at 7:30 p.m. on May 7 in the Abbott Concert Hall of the Kleinpell Fine Arts building. Admission at the door $5 adults; $3 students/seniors and $2 children.
UWRF music Professor Kristin Tjornehoj will lead the UWRF student-musicians in selections by composers Jack Stamp, Andrew Boysen Jr., Steve Bryant, Samuel Hazo and Frank Tichelli. All selections have won awards for quality from composition competitions such as the William D. Revelli Composition Contest.
For more information check the UWRF music department web site at www.uwrf.edu/music/events.html or call the music department at 715-425-3183 or email music@uwrf.edu .
-30-
Last updated: Thursday, 22-Apr-2010 16:09:35 Central Daylight Time