UW-RF Home > University Communications Home > This Month's News Releases
University Communications
For more information contact news@uwrf.edu.
New Provost Joins UWRF July 1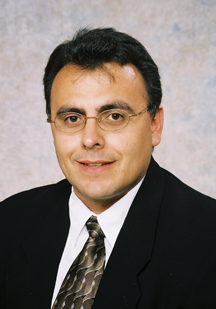 APRIL 27, 2009--Fernando Delgado, dean of the College of Liberal Arts at Hamline University, has accepted the position of provost and vice chancellor for academic affairs at the University of Wisconsin-River Falls and starts the position July 1.
An experienced educator and administrator, Delgado, as chief academic officer at UWRF, will oversee all undergraduate and graduate curricular programs as well as the hiring, development and evaluation of faculty and instructional staff.
Prior to joining Hamline University, Delgado has held positions as dean in the College of Graduate Studies and Research at Minnesota State University, Mankato, and associate vice provost of academic programs at Arizona State University.
In his current position at Hamline, Delgado is responsible for intercollegiate athletics, including nine men's and 10 women's sports in Division III, undergraduate admissions, the career development center, the center for academic services, and the off-campus and study abroad office.
Delgado is the author of 18 refereed journal articles and numerous other articles and has two book manuscripts in preparation for publication, "Fidel Castro and the Construction of a Revolutionary Ideology¨ and "Kicking Around: Soccer America and the Persistence of a Soccer Culture.¨ Delgado earned M.A. and Ph.D. degrees in communications studies from the University of Iowa and a B.A. degree in political science from San Jose State University.
The UWRF provost reports directly to the chancellor and serves as the campus representative in the chancellor's absence. The position also provides leadership, direction and oversight for academic support services, enrollment services, the Chalmer Davee Library and the offices of Global Connections and Grants and Research.
Other responsibilities of Delgado's position include working closely with the Deans' Council and budget planning and management; implementing and monitoring UW System mandates; facilitating, monitoring and approving externally funded research programs; facilitating faculty development activities; and providing oversight for student course evaluation for academic programs and program reviews.
UW-River Falls, ranked by U.S. News and World Report as one of America's Best Colleges (Midwestern University, master's category), has more than 6,000 undergraduate students and nearly 500 graduate students. The university employs some 800 people and is the western-most institution in the 26-campus University of Wisconsin System. It has an annual operating budget of approximately $90 million.
-30-
Last updated: Thursday, 22-Apr-2010 16:09:35 Central Daylight Time