UW-RF Home > University Communications Home > This Month's News Releases
University Communications
For more information contact news@uwrf.edu.
Egypt Tour Information Session to be Held
APRIL 17, 2009 | An information session for a study tour to Egypt in January 2010 for the community and university faculty, staff and students will be held April 29 at 4:45 p.m. in Room B107 Kleinpell Fine Arts building at the University of Wisconsin-River Falls.
The tour is set for January 11-23, 2010, and is led by Steven Derfler, who teaches art history at UWRF and has led the tour to Egypt over the years.
"To travel to the land of Egypt is to feel profoundly touched by history," says Defler. "The glory and greatness, mystery and mystique that was once Egypt, beckons alluringly. This ancient land, shaped by temples, tombs, and hieroglyphs, is a civilization created by the mighty Nile River."
This 13-day study tour of Egypt will focus on the art and archaeology as well as address modern issues that Egypt needs to address as it enters the 21st century.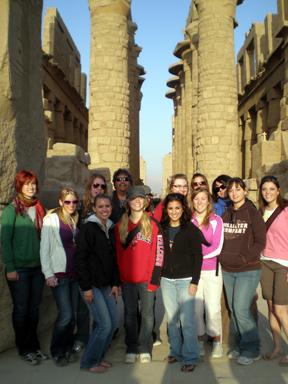 The cost of the trip includes round-trip airfare from Minneapolis-St. Paul; accommodations in 5-star hotels and Nile River Cruise Ship with private bath; breakfast, lunch, and dinner daily; all domestic transportation (planes, trains, carriages, boats, buses and even camels); all entrance fees; air tour to Abu Simbel; transfers, hotel taxes, tips and porterage at airports and hotels.
"Perhaps no other civilization has so thoroughly captured the hearts and minds of the western world as that of the ancient Egyptians," continues Derfler. "As humankind emerged from its early adolescence on the road to adulthood, ancient Egyptian culture and society were there to lead the way. This ancient land became the world's leader in art and architecture, science and industry, and religion and philosophy."
For more information contact Derfler at 715-425-0639, Steven.L.Derfler@uwrf.edu .
UWRF students who went on the January 2009 Egypt study tour, along with numerous community members include (Photo: back, L to R:) Kayla Oschmann, Kalyssa Tatroe from Stillwater, Minn. , Erin Robinson of St. Paul Park, Minn. , Steven Derfler (faculty tour leader), Jenn McNeal, Rachel Baehler of Bloomington, Minn. , Anna Petry of Woodbury, Minn. , Anne Lawton. (Front, L to R:) Cheri Baloun of Beaver Dam , Amanda Lombardo of Osceola , Tammy Deutsch, Rebecca Larson of Plymouth, Minn., Nicole Oschmann, Helen Sadee of River Falls .
-30-
Last updated: Thursday, 22-Apr-2010 16:09:35 Central Daylight Time