UW-RF Home > University Communications Home > This Month's News Releases
University Communications
For more information contact news@uwrf.edu.
Eight UWRF Finalists Competed at Fairest of the Fairs
By Jessica Bergan
University Communications
APRIL 20, 2009 | As young women in rural Wisconsin look up to older generations, some consider the Wisconsin State Fairest of the Fairs to be a role model and wonder if they too, will be crowned someday. Eight of the 43 finalists, including the winner, are students at the University of Wisconsin-River Falls. This year's competition took place in Wisconsin Dells.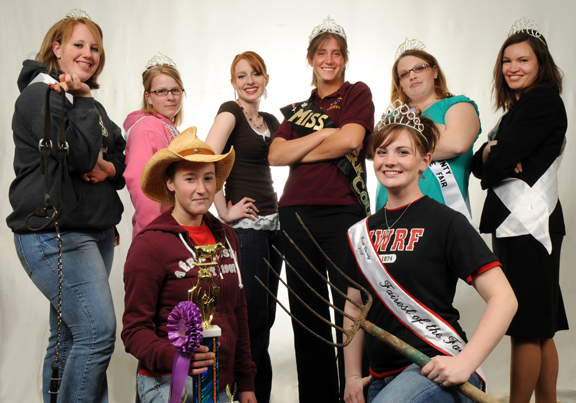 According to Celsey Carlsen, a freshman agricultural business major from Sheldon, she chose to run for Fairest of the Fairs because it was an enriching experience.
"I am very happy that I ran for the Fairest of the Fairs," says Carlsen, who is employed by the UWRF Office of University Communications, and a member of the Ag-Business and Marketing Society, Block and Bridle, and Dairy Club.
"It is an experience that I wish more girls could have. It is such a great learning experience. I have met so many wonderful people during my reign and at the competition."
Selected as the 2009 Wisconsin State Fairest of the Fairs, Melissa Ploeckelman, a senior agricultural education major from Stetsonville, said that she had many supporters who helped with her campaign. When it came time to looking the part and preparing for interviews, her family that took her shopping and quizzed her on information about the fairs.
Ploeckelman is a resident assistant in Hathorn Hall, and also serves the organizations Alpha Tau Alpha, the National Resident Hall Honorary, Agricultural Education Society, and Hathorn Hall Council. "I am staying busy right now and am looking forward to being even busier in the future as the Fairest position picks up," she said.
As the Fairest of the Fair representative, Ploeckelman's duties begin in April and she will stay busy until the end of August, especially when she will act as the official hostess of the State Fair in West Allis.
"I had a blast serving as my county's Fairest," said Ploeckelman. "I wouldn't trade the experience for anything."
Placing third in the competition was Jodi Kauth, a senior agricultural business major from Loyal. Kauth decided to run for the Fairest of the Fairs after being crowned Miss Clark County last August. "It is a great way to meet a lot of people and have doors open," says Kauth.
Kauth is currently involved with several UWRF organizations including the Dairy Club, National Agri-Marketing Association, and the Agricultural Communicators of Tomorrow, where she hosts a weekly radio show.
Amie Stillman, a senior agricultural education major from Weyauwega, also joined the Fairest competition. Stillman is a resident assistant for McMillan Hall, while serving as the Sigma Alpha president, a member of Alpha Tau Alpha and the Agricultural Education Society member, and a campus tour guide. She is also employed on a local dairy farm and cheese factory during the summer.
Stillman decided to run for the State Fairest of the Fairs position because she wanting a way to stay involved in 4-H and FFA. "I also love talking to people and meeting new people, so what better job [would be] for me than to be Fairest of the Fairs," said Stillman.
Jennifer Balko, a freshman dairy science major from Cumberland, was crowned Barron County Fairest in July.
"It is a once in a lifetime opportunity," said Balko of her decision to compete at the state level. Balko works on her family's dairy farm.
Sarah Mateske, a junior agricultural education major from Montello, was crowned Marquette County Fairest in early July. "This has been the most enjoyable past seven months and I still have five more months of educating the public. I have met so many people and gained a lot of knowledge about the county fairs, businesses, and so on. This is one thing that I will never regret or forget," says Mateske, who is involved with her local FFA alumni chapter and her family's Holstein beef steer operation.
Greta Nelson, a junior pre-professional major from Milltown, serves as the 2009 Polk County Fairest. Nelson is involved with UWRF Dance Theatre, Swing Dance Club, and InterVarsity Christian Fellowship. She also teaches at the St. Croix Valley Dance Academy, runs a community education dance program in St. Croix Falls, and works at a coffee shop during winter breaks and her family's dairy farm as well.
"Whether one placed or not at the State Fairest of the Fairs contest, every girl walked away with memories and skills they will have forever," says Nelson. "Saying this experience has been fun is an understatement because it is not only enjoyable, but it has helped me to grow and learn about myself and my county."
Erin Jens, a sophomore dairy science major from Waldo, represented Sheboygan County at the state competition. Jens is an active UWRF Dairy Club member and also works on a farm off campus.
Jens says the she has loved the county fair ever since she was five years old and says many future Fairests of the Fair can look up to these role models.
"Be confident in yourself and who you are," said Jens. "Being Fairest of the Fairs, you are looked up to by so many people and how you present yourself shows how great you are."
Photo: L to R: Front: Erin Jens and Celsey Carlsen; Back: Jennifer Balko, Sarah Mateske, Greta Nelson, Jodi Kauth, Amie Stillman, and Melissa Ploeckelman.
-30-
Last updated: Thursday, 22-Apr-2010 16:09:35 Central Daylight Time