UW-RF Home > University Communications Home > This Month's News Releases
University Communications
For more information contact news@uwrf.edu.
UWRF Students Receive Chancellor's Award
APRIL 20, 2009 | Seven University of Wisconsin-River Falls students received the 2009 Chancellor's Award for Excellence and were honored at a ceremony April 14.
The highest nonacademic honor that a student can receive at UWRF, the award is bestowed upon students who have demonstrated remarkable leadership and service to the University during their undergraduate careers.
This year's recipients, include (photo below: front row, left to right) Rebecca Peine, Chancellor Connie Foster, and Melissa Ploeckelman and (back row, left to right) Jacob Cavanaugh, Krista Hasselquist, Joshua Lambert, Charles Sowa, and Amanda Liesch.
Student recipients are typically upperclassmen and receive their nominations from a faculty or academic staff member or student peers through the Student Senate. A committee that reports directly to the chancellor considers every nominee. After select interviews, the committee submits their recommendations to the chancellor, who makes the final decisions.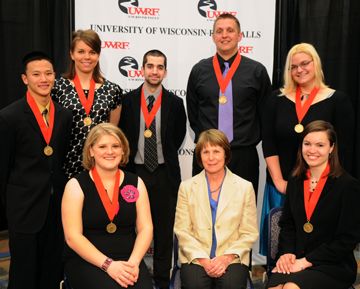 Jacob Cavanaugh , a senior majoring in broad field science from Cloquet, Minn., served as a student manager for the Destination program. He planned and organized four service trips across the country for approximately 45 students, faculty and staff. He was also cross-country captain in 2008 as well as received Rookie of The Year and Most Improved awards in 2005. Jacobs has also served in the National Guard since 2006.
"Jake is consistently looking for ways to utilize his incredible leadership skills and enhance the conditions of the people and world around him," said Kristin Underwood, a career counselor and peer advisor supervisor. "He is an honest, committed, hard-working student who is devoted to changing other's lives."
Krista Hasselquist, a senior majoring in health and human performance from Osceola, was the facilities and fees chair for the UWRF Student Senate where she was responsible for coordinating the review and approval process for all non-allocable student fees. Hasselquist worked collaboratively with several university departments and shared student government organizations to build a fee structure that supports university programs, facilities and services. She was also the captain for the female Track and Field team 2006-08 and is a four-time All-American shot putter.
"Krista always seems to find the time to attend to each student, staff, faculty, coach, and administrator's needs while maintaining her own," said Gregg Heinselman, associate vice chancellor for student affairs.
Joshua Lambert, a senior majoring in sociology from River Falls, was nominated by student Matthew Dale on behalf of the Student Senate.
Joshua is the founder of a social justice student organization called Ethical Citizens for Action. He was a student assistant in the sociology in 2008 and participated as a member of Faculty Senate Diversity Council. He also is a member of the College of Arts and Sciences Dean's Advisory Council.
"Energetic, thoughtful, inspiring, caring and outgoing are only a few of the personal qualities that make Josh an outstanding person to know," said Tricia Davis, associate professor of sociology.
Amanda M. Liesch , a senior majoring in international studies from Kaukauna, has been involved in many research projects, from collecting samples to analyzing data. She has worked with the St. Croix Institute for Sustainable Community Development as well as with Massey University Soil and Earth Science Group in Scotland. Amanda is a member of the honors program on campus and the Crop and Soils Club. She was also the communications officer and presently the co-president of the Society for Undergraduate Research, Scholarly and Creative Activities.
"Mandy is extremely bright, energetic, and intellectually voracious. Her academic performance is absolutely top drawer," said David Trechter, chair and professor of agricultural economics stated.
Rebecca Peine, a senior majoring in speech communication from Cannon Falls, is a hall manager at Parker Hall. She is also the chair on the Leadership Development and Service Committee and a member of the Social Justice Committee. Rebecca has received the Student of the Year award from the United Residence Hall Association as well as the Social Program of the Month by the Great Lakes Affiliates of College and University Residence Halls.
"Becca seems to stay grounded and find the time to support the needs of others as well as her own," said Gregg Heinselman, associate vice chancellor for student affairs.
Melissa M. Ploeckelman, a senior majoring in agricultural education from Stetsonville, is a resident assistant in Hathorn Hall as well as a Hall Council member. She is also a member of the National Resident Hall Honorary and has been the vice president for the Agricultural Education Society and an officer for Alpha Tau Alpha. She has developed and directed multiple workshops for the Wisconsin State FFA State and served as an FFA officer and parliamentarian.
"Melissa Ploeckelman is a solid student leader in the residence halls and serves as an exceptional role model for other students," said Sandi Scott Duex, director of resident life.
Charlie Sowa, a senior majoring in human and health performance from Rochester, Minn., is an intern and web site manager for the recreation and sports facilities and assistant coach/manager for the UW-River Falls Track and Field team. He has been the president of the Student Athlete Advisory Committee and is currently the chair of the Student Athlete Advisory Committee.
"Charlie strives to continuously improve himself by creating many different experiences and opportunities in which to engage in," said Martha Brennan, track and field coach.
-30-
Last updated: Thursday, 22-Apr-2010 16:09:34 Central Daylight Time