UW-RF Home > University Communications Home > This Month's News Releases
University Communications
For more information contact news@uwrf.edu.
Student Mural Displayed at State Office
APRIL 13, 2009 | A partnership between the Wisconsin Art Education Association (WAEA) and the Wisconsin Department of Children and Family Services (DCFS) has resulted in an artwork created at UWRF by students, staff and community members.
One of the first collaborative pieces to be displayed at DCFS is a portable mural created by the River Falls community to address three important community themes: "Service in the St Croix Valley, Inclusivity/Diversity and Globalization."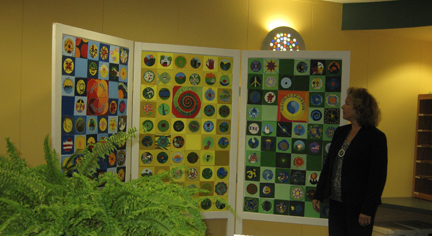 The collaborative mural is displayed at the new offices of the new DCFS at 210 E. Washington Ave. in Madison. One part of this initiative is to invite collaborative works that are created in Wisconsin to be displayed in their facility for a period of time.
The creative process was guided by UWRF art professor and artist Lynn Jermal and created in community workshops by UWRF staff and students, community members and area children in 2006 to celebrate the incoming UWRF chancellor's inauguration.
The guiding motif was the "mandala," a form that uses the circle as a focusing and reflective device for visual symbols of meaning. Each participating artist chose a theme and created his or her mandala to be included in the final piece. Jermal works with schools and communities to create collaborative works of art to commemorate important events or reflect the community's values.
Photo caption: Linda Leonhart, a DCFS staff member and the liaison for the partnership between WAEA and DCF, is pictured with the mural from UW-River Falls when it was delivered in Madison in March.
-30-
Last updated: Thursday, 22-Apr-2010 16:09:33 Central Daylight Time