UW-RF Home > University Communications Home > This Month's News Releases
University Communications
For more information contact news@uwrf.edu.
New CBE Dean Selected at UWRF
APRIL 13, 2009 | The University of Wisconsin-River Falls has named Glenn Potts, the current director of the Master's of Business Administration degree program and an associate dean in the College of Business and Economics as dean of that college. He will begin the position July 1.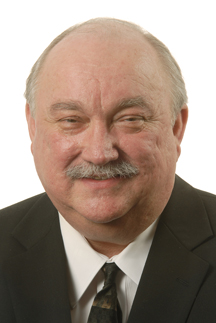 Potts, a professor of economics, joined the faculty in 1976. His academic areas of expertise include money and banking, statistics and quantitative analysis.
"Glenn Potts was selected out of a strong pool of candidates for this position," said interim Provost Terry Brown. "He has served in important leadership roles in the College and on campus and has demonstrated a deep commitment to student achievement and success."
Potts said he is very pleased to continue to serve the college in a new capacity. "I am very happy to be appointed dean of the College of Business and Economics. I am looking forward to working with the faculty, staff, and students in the college to build on a strong base," said Potts, who was named Distinguished Teacher in 1982 and Outstanding Teacher in Social Science in 1989.
Potts continued: "The College of Business and Economics has extremely strong programs in accounting, business, computer science and economics in addition to a growing Army ROTC program. The MBA program is providing a great service to its students and the business community of the St. Croix River Valley."
Potts holds a B.A. degree in economics from MacMurray College in Jacksonville, Ill.; a M.S. degree in economics and a Ph.D. degree in monetary economics and statistics from Iowa State University, Ames.
-30-
Last updated: Thursday, 22-Apr-2010 16:09:33 Central Daylight Time