UW-RF Home > University Communications Home > This Month's News Releases
University Communications
For more information contact news@uwrf.edu.
Local Food Event Features Speaker Winona LaDuke
APRIL 10, 2009 | People in and around western Wisconsin can learn about developing a local food system with the help of author, activist and economist Winona LaDuke (below), who will be the keynote speaker at an event on April 30 at the University of Wisconsin-River Falls.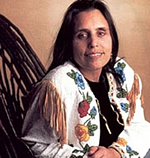 LaDuke will present, "An Evening with Winona LaDuke: Cultivating a Local Food Community," from 6:30 to 8:30 p.m. in the Riverview Ballroom of the University Center, located at 500 East Wild Rose Ave. in River Falls.
As a rural development economist working on energy policy and self-sufficiency in Native America, LaDuke is known for her work in reconnecting the bonds between local food and culture in Native American communities. She speaks extensively on the importance of sustainable development, including food systems.
The local food event begins at 5 p.m. with a local food fair, featuring representatives of local farms, community-supported agriculture operations, grocery co-ops, farmers markets, restaurants and other organizations. To demonstrate what eating locally entails, a variety of complimentary appetizers made with local ingredients will be served, including wild rice quiche, seasonal bruschetta and mini pizzas, as well as locally produced beverages.
Complimentary appetizers will begin at 5 p.m. and be served until LaDuke's presentation at 6:30 p.m. She will focus on the definition of a local food system and why local food systems are important to communities and regions. A question-and-answer session will follow.
This event comes at an opportune time, as local food sales have been on the rise. In May 2007, "Packaged Facts," a leading publisher of market research in the food and beverage industries, noted in a report, "Local and Fresh Foods in the United States," how local food sales are currently the most dynamic sector of the retail food market. According to the report, local food sales have grown from $4 billion in 2002 to $5 billion in 2007 and are projected to reach $11 billion by 2011.
"With interest in local food on the rise nationally, we felt it was important to begin discussing the issues surrounding local food systems here in western Wisconsin," said Juliet Tomkins, a lecturer in the UWRF Department of Agricultural Economics. Tomkins is also the outreach coordinator for a three-year U.S. Department of Agriculture grant to promote sustainable agriculture in western Wisconsin that is partially funding the event.
One of the event sponsors is the Midwest Organic and Sustainable Education Service, an organization that serves farmers striving to produce high-quality, healthful food using organic and sustainable techniques.
"Winona is an engaging and thought provoking speaker and we're delighted to have her here at this exciting event, a celebration of local food," says Faye Jones, Executive Director of MOSES.
An Anishinaabekwe (Ojibwe) enrolled member of the Mississippi Band Anishinaabeg, LaDuke lives and works on the White Earth Reservation and has three children. She is the program director of the Honor the Earth Fund and founding director for White Earth Land Recovery Project.
A graduate of Harvard and Antioch universities, Winona has written books, essays and editorials on Native American and environmental issues, including the novel "Last Standing Woman," and a non-fiction book, "All Our Relations." A former board member of Greenpeace, she serves as co-chair of the Indigenous Women's Network. She has received numerous awards including the Reebok Human Rights Award and was nominated in 1994 by Time magazine as one of America's 50 most promising leaders under age 40.
The event is free and open to the public and seating is limited. Preregistration is required; emailing Sarah Rykal at sarah.rykal@uwrf.edu before April 20 or call Gayle Dodge at 715-425-3176. Organizers expect the event will be at capacity, however, there will be limited standing room if seating is full. Donations will be accepted to help promote sustainable agriculture in western Wisconsin.
This event is co-sponsored by the UWRF College of Agriculture, Food, and Environmental Sciences, the Midwest Organic and Sustainable Education Service, and by the St. Croix Institute for Sustainable Community Development at UWRF.
For more information about the event, visit www.localfooduwrf.blogspot.com. For more information about Winona LaDuke, visit: http://nativeharvest.com.
-30-
Last updated: Thursday, 22-Apr-2010 16:09:32 Central Daylight Time