UW-RF Home > Communications > This Month's News Releases
University Communications
For more information contact news@uwrf.edu.
Anti-Racism Author to Speak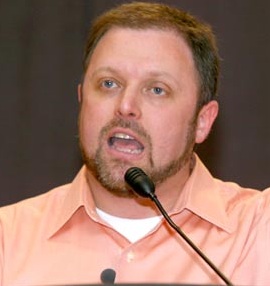 MARCH 27, 2009 | The University of Wisconsin - River Falls Wyman Series will present Tim Wise, an anti-racism speaker from Nashville, Tenn., on March 31 in the North Hall Auditorium at 8 p.m. Open to the public, the event is $5 for adults, $3 for ages 6-18 and free for UWRF students as well as children under 5.
Wise presents "Beyond 'Diversity': Challenging Racism in an Age of Backlash." He is among the most prominent anti-racism writers and activists in the United States and has spoken to more than 300,000 people in 48 states, and at 400-college campuses, including Harvard, Stanford and the law schools at Yale and Columbia.
Wise is the author of four books, and two of his most popular books are "White Like Me: Reflections on Race from a Privileged Son" and "Affirmative Action: Racial Preference in Black and White."
Wise has trained educators, as well as corporate, government, media and law enforcement officials on methods for uprooting institutional racism. His latest book, "Between Barack and a Hard Place: Racism and White Denial in the Age of Obama," is the first book since President Barack Obama's election that critically examines what his success means and doesn't mean when it comes to racism in the United States today.
Tickets are available at the door starting at 6:30 p.m. on performance night. For more information, contact UWRF student affairs at 715-425-4444.
-30-
Last updated: Thursday, 22-Apr-2010 16:09:30 Central Daylight Time