UW-RF Home > Communications > This Month's News Releases
University Communications
For more information contact news@uwrf.edu.
UWRF Professor Receives Global Educator Award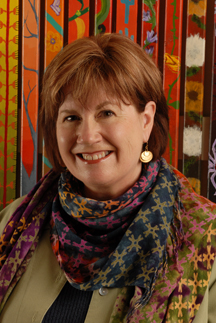 MARCH 23, 2009 -- Lynn Jermal, a professor in the art department at University of Wisconsin-River Falls, received the Friends of International Education (FIE) Global Educator Award in mid-March at the 2009 Wisconsin Council for the Social Studies and International Education Annual Conference in Madison.
Jermal, who lives in Hudson, received the Global Educator Award in recognition of her contributions to global/international education. The award is given to a full-time educator who has been recognized as an excellent teacher or instructional leader and encourages or utilizes teaching strategies that foster inquiry about and awareness of global issues. Jermal's art education students develop a model for teaching art that acknowledges the importance of a global emphasis in their art curriculum.
Jermal is also involved in several international study programs at UW-River Falls, including Semester Abroad -Europe, a long-standing program that gives students an opportunity to develop independent study projects or internships in Europe over the fall semester. She is an assistant leader this year and will take a group of students to Europe in 2010.
In addition, she has been involved in developing a relationship with the China Exploration and Research Society (CERS) in southwestern China, founded by a UWRF alumnus and international explorer, Wong How Man. The center incorporates students in the conservation work on the Tibetan Plateau and other areas in need in southwest Asia.
This summer, Jermal will be part of a team from UW-River Falls that will be spending a month working on the collection and display of Lisu and Li artifacts to retain their cultural history.
Jermal was nominated for the award by Teri Powers of Amery, who is secretary of the FIE and has worked with Jermal in the past.
FIE is dedicated to strengthening global and international education in Wisconsin and beyond. Formed in 2000, FIE represents an effort to create a network of educators, business people, government officials and community members who are committed to enhancing global awareness and competency among Wisconsin citizens. Its primary goal is to provide opportunities for students, teachers and others to enhance their understanding of-and participation in-the global community.
-30-
Last updated: Thursday, 22-Apr-2010 16:09:30 Central Daylight Time