UW-RF Home > University Communications Home > This Month's News Releases
University Communications
For more information contact news@uwrf.edu.
UWRF Dance Theatre Presents Spring Concert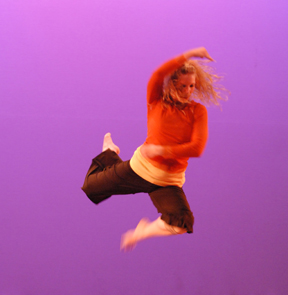 MARCH 20, 2009 | The University of Wisconsin-River Falls Dance Theatre will present its annual spring concert April 1- 4 at 7:30 p.m. in the Blanche Davis Theatre in Kleinpell Fine Arts Building on the UWRF campus. Tickets, available at the UWRF box office located in the KFA lobby, are $5 for students/seniors/children and $7 for adults.
This year's concert blends faculty, guest, and student choreography with a variety of styles ranging from lyrical and classical Chinese to contemporary modern dances. The concert will feature the work of two guest Twin Cities' choreographers, Stacy Pottinger and Bryan Gerber. Pottinger's "The Girl From Upstage Left" is a trio for three women, and was recently performed at the Kinetic Kitchen in Minneapolis. Gerber has created an original dance for 10 members of the UWRF Dance Theatre.
UWRF dance faculty member Mari Kline has choreographed two technically challenging modern pieces for the concert. One work, "Halcyon," was chosen to represent UWRF at the American College Dance Festival, held March 18-22, at the University of Minnesota. Kline also has created a virtual duet called "Contained" that is danced to an original score composed by Kline with vocals by Kristen Foss, a junior psychology major from St. Paul. This duet features a live performance by Kline, who dances with an on-screen image of guest choreographer Gerber.
Dance Theatre member Rana Kuebker, a senior marketing communications major from Hammond, will present her work, "Intentions Within," to be danced by nine women and accompanied by an original score by Andy Drane. Her piece also will be presented to professional choreographers at the American College Dance Festival.
Dance Theatre member Greta Nelson, a junior elementary education major from Milltown, will present a self-reflective solo titled, "Don't Listen," to an abstract musical score by Marty Beller. Another student choreographer, Emily Steltenpohl, a junior health and human performance major from Merrill, has created a moving group dance to a solo piano score performed live by Hilary Steltenpohl.
Dance Theatre member Haiya Zhang, a sophomore business administration major from Kunming, China will perform a traditional Tibetan solo dance with authentic Tibetan costume and music. An upbeat swing-style dance piece, choreographed by student Diana Schueller, a senior animal science major from Fond du Lac, explores a humorous school dance setting.
Torrion Amie, a member of the UWRF faculty, has prepared a high-energy, athletic hip-hop piece for 14 dancers. Dance Theatre alumnus Ricardo Suarez has created a whimsical work, "It's All About Me," about the many moods of a bride, performed by a small group of female performers dressed in bridal gowns. Ruby Lanoux, also a Dance Theatre alumnus, has created a contemporary Modern dance work for 14 dancers.
The concert will conclude with a large group piece based on mathematical manipulation of movement and danced by all 34 members of Dance Theatre, with choreography by Dance Theatre director and UWRF health and human performance professor Karla Zhe.
Tickets will be available from 10 a.m. to 2 p.m. March 23 through April 3 at the box office in the Kleinpell Fine Arts building and also available each performance evening beginning at 6 p.m. For ticket information call the box office at 715-425-3114; for more information about the concerts call Zhe at 715-425-3131.
-30-
Last updated: Thursday, 22-Apr-2010 16:09:29 Central Daylight Time