UW-RF Home > Communications > This Month's News Releases
University Communications
For more information contact news@uwrf.edu.
UWRF Prof Receives State-Wide Community-Based Learning Award
By Linda Abel
University Communications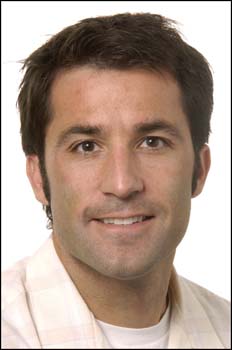 MARCH 16, 2009 | The Wisconsin Campus Compact organization presented a Community-Based Learning Practitioner award to a UWRF professor for his creation of a unique program linking middle school students with university teachers-in-training.
Michael Miller, an assistant professor of teacher education at UWRF, received the award at a luncheon in Madison attended by 300 educators and administrators for his efforts at creating the Gear Up, Get Ready program on campus.
Each year, the Wisconsin Campus Compact recognizes one community-based learning practitioner for exemplary leadership in advancing the civic learning of students.
Miller started the Gear Up, Get Ready program in 2006 when a group of students in his Teacher Education 212 course wanted to use the information they had learned in their education classes by working with middle school students on an academic level.
The main focus of the program is for the teacher education students to plan lessons for middle school students around post-secondary awareness, access and success. The program started with 25 pre-service teachers and 75 middle school students and has evolved to involve some 250 pre-service teachers and nearly 1,000 middle school students, Miller said.
"The students develop a program that attends to the educational concepts of development, learner differences, motivation, classroom management and assessment," says Miller.
Tony Casci, a secondary education and mathematics major from Shoreview, Minn., said the program is a win-win situation: "The Gear Up, Get Ready program is an enlightening and healthy experience for both the college and middle school students."
Jordan Harshman, a chemistry and education major from Almena, says the program gives students an opportunity to practice what they learn in the classroom. "The Gear Up, Get Ready Program, really put us in the driver's seat in coordinating all of the events from start to finish," he said.
Upon receiving the Community-Based Learning Practitioner Award, Miller said, "Of course [it is] nice to be recognized and the award will look great on my desk, but most of the credit belongs to the ambitious students of TED 212."
He continued, "I have learned to never underestimate the creativity and innovative potential of my students. From the ground up this whole thing has been about unlocking the potential. I am just responsible for creating a space for the students to work and facilitating some activities."
Miller has a B. S. in elementary education from the University of Michigan, a M.S. in recreation administration from Aurora University and a Ph.D. in educational psychology from the University of Minnesota. Prior to joining UWRF, Miller worked as a public school teacher in New York and as a youth education leader at Camp Laurel in Maine, Squaw Valley Academy in California and the Family Independence Agency in Michigan, among others.
A leader in building civic engagement into campus and academic life, Campus Compact is a coalition of nearly 1,100 college and university presidents and chancellors representing some 5 million students who are committed to fulfilling the public purpose of higher education. Through the Wisconsin Campus Compact state office and the national network, member institutions receive the training, resources, and advocacy they need to build strong surrounding communities and teach students the skills and values of democracy.
-30-
Last updated: Thursday, 22-Apr-2010 16:09:28 Central Daylight Time