UW-RF Home > Communications > This Month's News Releases
University Communications
For more information contact news@uwrf.edu.
New Biotech Center at UWRF Celebrated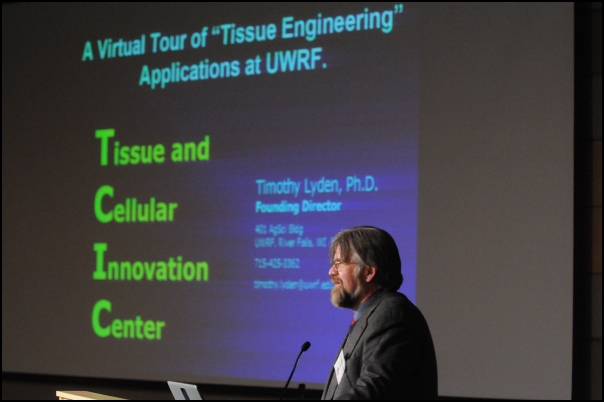 MARCH 16, 2009 | Tim Lyden (right), an associate professor of biology at the University of Wisconsin-River Falls and director of its new Tissue and Cellular Innovation Center, spoke to about 125 scientists, physicians, researchers, industry leaders and interested community members at the University Center March 9 to celebrate the new center linking biotech research to the real-world needs.
Wisconsin Secretary of Commerce Richard J. Leinenkugel (below, right), who delivered the keynote address, said the TCIC, as one of five new UW System centers for scientific research, is a model for academic, industry and clinical collaborators.
"In this economic climate more than ever it is important for industry, academic and clinical organizations to work in concert. These centers will help our Wisconsin companies meet the challenges of the future, provide spin-off companies, and help support job creation while helping to train a knowledgeable and entrepreneurial workforce and keep Wisconsin a leader in the global marketplace."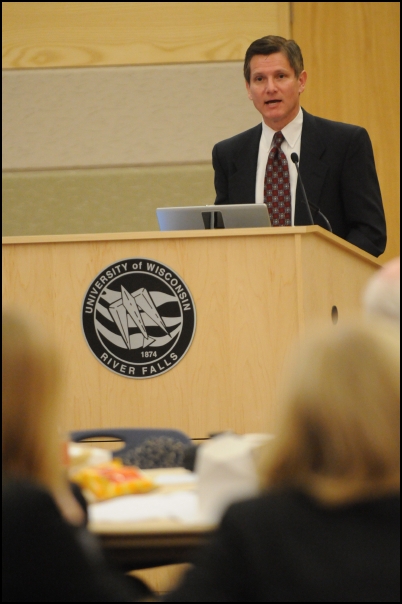 UWRF interim Chancellor Connie Foster, and Maliyakal John, managing director of the WiSys Technology Foundation Inc., praised TCIC and touted its mission.
"It's an evolutionary step forward for early teaching and research efforts we started in 2001," said Foster. "We are creating a new paradigm that blends our educational mission with academic, clinical and industry partners."
The TCIC was made possible through a public-private partnership between UWRF, WiSys, Marshfield Clinic and Phillips Plastics Corp., along with other collaborators.
WiSys exists to identify innovative technologies throughout the UW System and bring them to market – in collaboration with Wisconsin companies whenever possible. TCIC's work includes a natural, three-dimensional scaffold, developed by Lyden and his team, for growing tissue and cells that could drive new methods for developing vaccines and producing proteins that are important for making new drugs.
-30-
Last updated: Thursday, 22-Apr-2010 16:09:27 Central Daylight Time