UW-RF Home > Communications > This Month's News Releases
University Communications
For more information contact news@uwrf.edu.
Math Modeling Contest Challenges UWRF Students
By Andy Barker
University Communications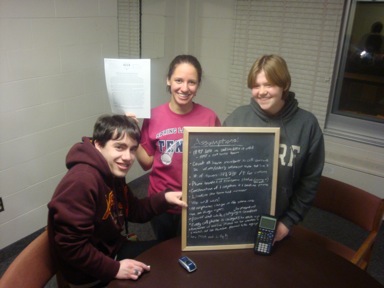 MARCH 2, 2009-- The University of Wisconsin–River Falls mathematics department had six students in two teams compete in the 2009 Mathematical Contest in Modeling held on campus in early February.
Students choose one of two problems that appear on the Internet on a designated day and take several days to research the problem, develop a mathematical model to solve the problem and write a paper explaining their results.
Team 4218 included John O'Brien-Schroeder, a physics major from Hudson , Joleen Homeier, a post-baccalaureate certificate student from Hudson , and Nick Weber, a mathematics major from Stillwater, Minn ., wrote a paper, "Energy and the Cell Phone," to address a problem that required students to analyze the costs of cell phone versus land-line use, including infrastructure and maintenance costs.
Their model included an analysis of transition between the two modes of phone service. "I learned so much from my teammates by working on this paper," said Homeier.
Team 4219 (pictured in photo, L to R) included David Peschman, a mathematics major from Maple Grove, Minn., Jessica Yost, a chemistry major from Eau Claire, and Jessica Klemz, a chemistry major from Blaine, Minn., wrote a paper on the same problem with a focus on statistical methods.
Results of the student's standings will be available in May. In the meantime, the UWRF teams are participating in a paper swap with 10 other schools, which is being implemented for the first time this year, so that they can both provide feedback to the other students and receive feedback on their models.
Advisor and math Associate Professor Kathy Tomlinson said the paper swap is a new endeavor. "In the past our mathematical modeling teams have extended the contest experience by presenting their results at poster sessions or conferences, but the paper swap is the first opportunity our students will have to get specific outside feedback on their work."
For more information contact Tomlinson at kathy.a.tomlinson@uwrf.edu or call 715-425-3259.
-30-
Last updated: Thursday, 22-Apr-2010 16:09:27 Central Daylight Time