UW-RF Home > Communications > This Month's News Releases
University Communications
For more information contact news@uwrf.edu.
College of Business and Economics Names Outstanding Faculty
By Kirsten Nordstrom
University Communications
MARCH 2, 2009--The College of Business and Economics at the University of Wisconsin-River Falls has recognized four outstanding faculty members. The college presented Assistant Professor Megan Sun with the Outstanding Research Award; Professor Ahmad Abuhejleh with the Outstanding Advising Award; Professor Reza Rahgozar with the Outstanding Advising Award; and Professor Hossein Najafi with the Outstanding Teacher Award.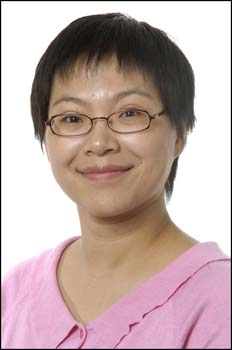 Megan Sun, of Woodbury, Minn. (right), is an assistant professor of finance and has been teaching at UWRF since fall 2003. Sun has many different research interests, and she recently published an article investigating how stock market returns, volatility and volumes are affected by fundamental and non-fundamental factors. She has also published papers on whether stock bubbles exist in the United States stock market, and others.
"This award is very important to me and I am delighted to win the award," said Sun. "It is an important recognition from my colleagues for the research work that I have done. I want to thank all of my colleagues since I wouldn't be able to achieve it without their support. This research award also raises the expectations for me. I will continue working hard to produce more publications." Sun is also involved in regular committee work and other university service.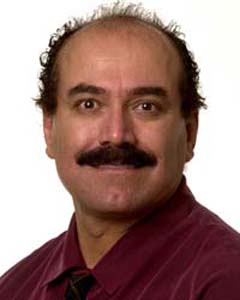 Ahmad Abuhejleh, of River Falls (left), is a professor of computer science and information systems in the college. Abuhejleh's research interests include database management systems, system analysis and design, and programming languages. Currently he is researching using XML technologies in systems analysis and design projects. Abuhejleh has a major publication called "New ways of Thinking About Multimedia and Online Teaching in Higher Education." He is also the chair of the UWRF CSIS Department, and won the CBE Teacher of the Year for the 2002-03 school year.
Reza Rahgozar, of River Falls (below, right), is chair of the accounting and finance department in CBE and a professor of finance who has been teaching at UWRF for 21 years. Rahgozar has previously been awarded several faculty research awards, a best paper award, and an association teaching award. Rahgozar is also a member of the university facility and development committee, faculty compensation committee, and the program review committee. "It (the award) means that students appreciate good advising that helps them to graduate on time," Rahgozar said. "The award also shows that she listens to students and talks to them about their interests and future plans."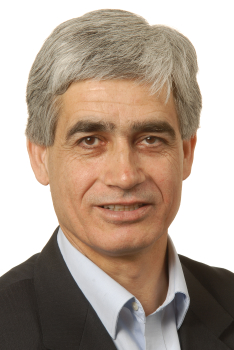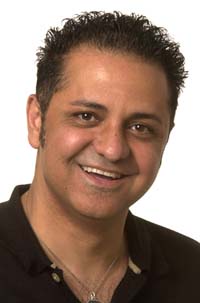 Hossein Najafi, of Woodbury, Minn. (left), is a professor of computer science and has been teaching at UWRF since fall 1990. Najafi has received a number of CBE faculty publication awards, and has also helped many students produce, present and publish research, including research regarding semantic networks, tuning control parameters using artificial neural networks, and a dynamic over-sampling reconstruction filter for audio signals using neural networks. "Educating and preparing students to become happy and productive members of society is what we--the faculty--live for," Najafi said. "The award offers a stamp of approval by my students and colleagues on my performance, and that means a lot to me." Najafi has been involved in numerous university, CBE, and department groups and organizations and is currently on sabbatical this semester.
The primary mission of the College of Business and Economics is to meet the needs of its stakeholders with high quality undergraduate programs, a Masters of Business Administration program, and business outreach services to the St. Croix Valley region. Its programs are grounded in the liberal arts tradition and include the application of business and economics knowledge through the integration of the classroom and the community.
-30-
Last updated: Thursday, 22-Apr-2010 16:09:27 Central Daylight Time