UW-RF Home > Communications > This Month's News Releases
University Communications
For more information contact news@uwrf.edu.
UWRF Students and Faculty Explore India's Agriculture
By Jessica Bergan
University Communications
FEB. 20, 2009--Less than a month ago when University of Wisconsin-River Falls students started the new semester, many shared stories of a relaxing semester break. But, according to UWRF students and professors who went to India over January term, their break couldn't have been more adventurous.
From touring religious temples and studying at the Central Food Technology and Research Institute or the University of Agricultural Sciences at Bangalore to riding on auto rickshaws and climbing around waterfalls, these world travelers agreed they enjoyed every aspect of the trip.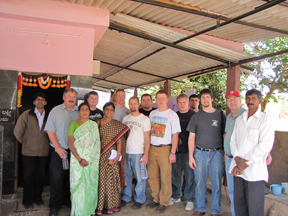 "It was an experience that I will never forget and it is something that you can't experience without going over there," said Michael Larson, an agricultural engineering technology major from Ashland. Dan Volkert, an agricultural studies major from Hammond, agreed. "Telling someone what it is like with words or pictures doesn't do it justice. One has to experience it for themselves."
The J-term trip to India was a first-time opportunity for students in the College of Agriculture Food and Environmental Sciences. Two professors and eight students went on the trip and faculty member from the universities, including V. Prakash, director of the Central Food Technological Research Institute in Mysore, accompanied the group on their travels.
The students visited places of social and cultural interest plus farms of all sizes in Bangalore and Mysore. "My favorite part of the trip was visiting a local food market," said Bjorkman. "It was like nothing I had ever seen. It was comparable to a farmers' market, but 100 times bigger than any back home, and there were foods I had never seen before."
Other students said that India's auto rickshaws, a form of taxi service, were definitely something to see and experience. They also toured rural agricultural areas and industries, mainly related to paddy, sugarcane, spices and plantation crop production.
One thing that really stood out to the students was India's different technological techniques. "Most of their technology seemed behind us, but they were advanced where they had to be," Beyrer said. Beyrer also said he found it interesting to know that they put sand on top of grain for insect control as well as using it to dry the grain and that cattle are fed protein supplements found in algae. "It's amazing how another country can have a common goal as the United States but do things in such different ways," he said.
Volkert said he noticed that they have very little waste in India, compared to the United States, because they are able to use all parts of every product in most cases.
In their first city, Myasore, the students attended classes, learning about a new concept of India's agriculture. After class students went on site-seeing trips, including waterfalls and water gardens.
When in Bangalore, students said their days also included class and outdoor farm visits. Local farmers gave them tours of their operations and the students learned information that one would never be able to gain if sitting in a regular classroom. "The farmers were very honored to talk to the students," Carlson said. "They were proud of what they had."
The group enjoyed 80-degree weather with very low humidity, contrasted with the cold winter they faced upon return. The experience was truly life changing. Beyrer said he is living life differently after he got back by learning to appreciate what is here and to not take things for granted.
For participating in the trip, students could earn three credits for a global perspectives course and choose three additional credits to count toward a special problems course.
The professors, too, said they look forward to going again next year if student interest remains high. "It was one of the year's greatest blessings," said Carlson. "I couldn't have asked for anything better!"
Photo caption: CAFES students and faculty at the University of Agricultural Sciences in Bangalore, India (L to R): UAS/Rural Bioresource Complex staff member Babu R.M.Ray; Steve Carlson, professor of crop and soil science; Mrs. Aswathamma, the caretaker of the rose and vegetable gardens, nursery and dairy and maintenance operations at Gobar Gas and who is married to H. Sadanand (far right); Erik Bjorkman, an agriculture engineering technology major from St. Paul, Minn.; UAS Professor Vijayalakshmi D.; Dan Volkert, an agricultural studies major from Hammond; Matt Flood, an agricultural engineering technology major from Brooklyn (graduated Dec. 08); Jesse Weber, an agricultural engineering technology major from Hartford; Joe Braml, an agricultural engineering technology major from River Falls; Mike Larson, an agricultural engineering technology major from Ashland; Anton Kaltenberg, a crop and soil science major from De Forest; Tryston Beyrer, a crop and soil science major from Colfax; Jerry Nechville, professor of agricultural engineering; and H. Sadanand, a farm entreprenuer of Tapasihalli, Doddabalapur taluk, Bangalore rural district.
30-
Last updated: Thursday, 22-Apr-2010 16:09:26 Central Daylight Time