UW-RF Home > Communications > This Month's News Releases
University Communications
For more information contact news@uwrf.edu.
University Center Celebrates Two-Year Anniversary
By Lacy Lukaszewicz
University Communications
FEB. 20, 200--The new University Center at the University of Wisconsin-River Falls celebrated its two-year anniversary in January.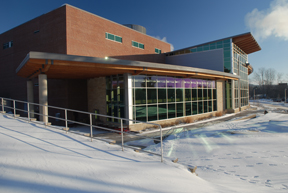 "The University Center has been a great addition for many obvious reasons, but most of all probably because it helped raise the expectation bar for all future UWRF buildings," said Michael Stifter, director of facilities management at UWRF. "It is wonderful to see the building constantly evolving with art, plants and other amenities. The building is very much alive and constantly growing."
Since it opened in 2007, the University Center has been honored with numerous awards from around the state and beyond. In 2007 Gov. Jim Doyle awarded Workshop Architects of Milwaukee with the Governor's Award for Outstanding Design and Construction: Excellence in Sustainable Design and Construction for its work in designing the University Center. The firm was recognized for its work in constructing the Center to Silver Leadership in Environmental and Energy Design (LEED) standards through the use of natural daylight resulting in light performance that is 30 percent higher than code.
While the building was initially constructed and designed to Silver Leadership in Environmental and Energy Designs for new construction, it fell shorts in a few measures to fully meet certification as a new construction, said Stifter.
"Our building was designed just as LEED was being more universally accepted as a building standard. That said, we generally worked in the spirit of LEED and used LEED silver as our standard," said Stifter." While our project exceeded state building code for air exchange, it didn't meet the ASHRAE stand for indoor air quality… a prerequisite for LEED is meeting [the] ASHRAE standard. However, we do feel it would be a great LEED candidate now for an existing building. Given the work we did and are doing, I think we may have a good candidate now for a Gold Certified Building."
Workshop Architects were the lead architects for the building and Moody Nolan, based out of Columbus, Ohio, acted as the associate architect and focused on the interior architecture. The Governor's Award also recognized the storm water collection system, where storm water from the building's roof is captured and stored for use in flushing plumbing fixtures. The design also serves to mitigate storm water surges that can be harmful to the nearby South Fork of the Kinnickinnic River, a Class One trout stream.
The American Council of Engineering Companies also has honored the new University Center with their Engineering Excellence Award given for the structure's high degree of achievement, value and innovation.
In addition to being recognized for its engineering and architecture, several other industry groups have given the University Center notice too. The building has achieved the Wisconsin Ready Mixed Concrete Association Northwest Region Concrete Design Award, which is part of a prestigious program showcasing best uses of ready-mixed concrete in Wisconsin and Michigan's Upper Peninsula.
The Wisconsin Commercial Real Estate Women presented the center with its Grass Roots Award, which is given for "a development that has built community support" and focused on the revitalization of a neighborhood.
"The University Center has made a positive impact on the entire UWRF campus, and very appropriately, UWRF students were the driving force behind the project as they dedicated their segregated fees for this building to become a realty," said Cara Rubis, associate director of the University Center. "The students' vision created much more than just a building, they created a 'living room' for the campus; a place where students' academic and social lives can come together."
The building truly is a place designed for and by students, and as such continues to evolve, as does a new attempt to pursue LEED certification for an existing building. "It is the goal of the University Center to continue to be a dynamic place so that it changes with the needs of both current and future UWRF students," said Rubis.
Says Stifter, "Students are to be credited for the foresight they showed not only in the initial funding, but also for the additional funding they provided for the support of sustainability initiatives."
-30-
Last updated: Thursday, 22-Apr-2010 16:09:25 Central Daylight Time