UW-RF Home > Communications > This Month's News Releases
University Communications
For more information contact news@uwrf.edu.
Campus Hosts Troop Send-Off
By Andy Barker
University Communications
FEB. 16, 2009 – The University of Wisconsin–River Falls held a sendoff ceremony for the River Falls Based National Guard Delta Co 1/128th Infantry Division on Feb. 11.
The soldiers wore the traditional Red Arrow Patch on their shoulder, a historically significant emblem, which has been worn by soldiers of Wisconsin since before the Civil War. A serious and emotional mood filled the University Center ballroom as a turnout of 500 community members gave their support to the 130 soldiers who were at the sendoff.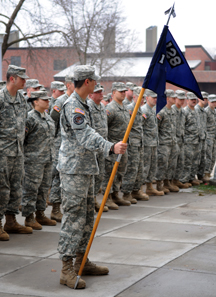 In addition to several dozen National Guard members who are UWRF students being deployed, there are two students in the ROTC program who elected to go, according to Maj. (R) Tabb Benzinger, director of military science and leadership and an assistant professor in the ROTC program at UWRF.
Chris Pagel, a sociology major from Chatfield, Minn ., and Jimmy Lauck, a sociology major from New Richmond , chose to interrupt their ROTC educational program and go on active duty, said Benzinger.
"This is one of the best-prepared brigades in the nation, they have done extra training over the last 14 months for this mission," said Colonel Steve Bensend, Commander of the 32nd Brigade Combat Team, 1/128th Infantry Division. Other speakers included Dr. Connie Foster, UWRF Interim Chancellor and Wisconsin Rep. Kitty Rhoades (R-Hudson).
"We share your pride, commitment and understand the sacrifices required of you and your families," said Foster, whose father was an Air Force Colonel and who grew up on numerous Air Force bases here and abroad. "Supporting our troops means paying attention to their needs here and in the field. It means understanding their needs as students and as soldiers, and as husbands, wives, parents, brothers, sisters, sons and daughters."
The troops will be sent to Fort Bliss, Texas on Feb. 25 for two months of additional training before they are finally deployed to Iraq on a security mission.
Not all guard members who are currently enrolled as UWRF students are required to be deployed. Freshman National Guard members may not be required to go as they are in the College First program, said Benzinger. The College First program can allow National Guard students in their first two years of college to continue their education and not be deployed. The upperclass guard students if called to deployment, however, must serve and interrupt their education.
For information on ways to support these troops call Andrew Joski, vice president of the UWRF vets club at 715-781-6563 or Ryan McNamara, president of the UWRF vet's club at 715-220-9395.
-30-
Last updated: Thursday, 22-Apr-2010 16:09:24 Central Daylight Time