UW-RF Home > University Communications Home > This Month's News Releases
University Communications
For more information contact news@uwrf.edu.
Local Nursery is Second Grower to Receive UWRF Service Award
FEB. 2, 2009--A nationally known, family-owned nursery that has provided support and technical assistance to the University of Wisconsin-River Falls and its students is the recipient of the 2008 UWRF Outstanding Service Award.
Bailey Nurseries, a St. Paul-based fourth generation family nursery, recently received the highest honor awarded to an organization outside UWRF and was recognized at the university's commencement ceremony in December.
This is the second time a regional grower has received the Outstanding Service Award from UWRF; Law's Nursery in Hastings, Minn., received the award in 2001.
The honors were conferred by interim Chancellor Connie Foster based on the recommendation of the UWRF Faculty Senate external relations committee and a nomination submitted by Terry Ferriss, chair of the plant and earth science department and professor of horticultu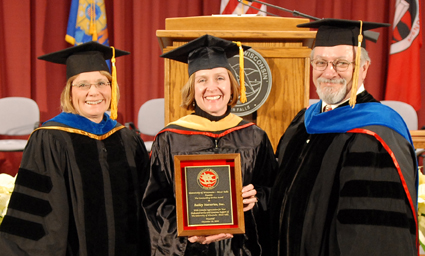 re.
"Bailey Nurseries has dedicated so much of their time and resources in developing opportunities for enhancing educational experiences for so many," Foster said. "They are exceptional friends to UW-River Falls, and its faculty, staff and students."
Terri McEnaney (center), president of Bailey Nurseries, accepted the UWRF Outstanding Service award from Ferriss (left) and Dale Gallenberg (right), dean of the College of Agriculture, Food, and Environmental Sciences at commencement.
Bailey Nurseries has earned a reputation as a leader in the nursery industry with inventive techniques, high-quality plants, and active involvement in industry organizations, education and community service. Integrity and innovation are the company's stated hallmarks since the beginning.
"Bailey Nurseries has provided consistent and valuable contributions to our horticulture program including sponsoring scholarships through Minnesota Nursery Landscape program directed towards our students, donating a tremendous amount of plant material and also providing internship opportunities for our students," said Ferriss. "They have been so supportive and our students have really benefited from them."
Support from Bailey Nurseries has also come in the form of guest lectures and field trips. In addition, the company has hired numerous graduates of the UWRF horticulture program over the past 30 years. Site visits and field trips incorporated Bailey locations in Cottage Grove, Minn., Hastings, Minn., and St. Paul so that students could see first-hand a variety of commercial processes and procedures including propagation techniques, greenhouse operations and field production. Bailey Nurseries is also the commercial propagator of the Lydecker Plum, developed by UWRF plant and earth Science Professor Brian Smith. It can withstand subzero temperatures and is a highly productive variety, producing round, purple to black plums.
In 2007, Great River Greening recognized Bailey Nurseries as the Environmental Business of the Year for its restoration work in the Mississippi and St. Croix river valleys.
-30-
Last updated: Thursday, 22-Apr-2010 16:09:24 Central Daylight Time