UW-RF Home > University Communications Home > This Month's News Releases
University Communications
For more information contact David F. Giroux, UW System, 608-262-4464 and Kevin Harter, UWRF, 715-425-3771.

Regents Appoint Two UW System Chancellors
Wisconsin Native Confirmed as next UWRF Chancellor


JAN. 16, 2009--MADISON, Wis.--The University of Wisconsin System Board of Regents today formally appointed new chancellors at UW-Green Bay and UW-River Falls, approving all terms of their employment.

Dean Van Galen was appointed as the chancellor of UW-River Falls, with an annual salary of $200,000. Thomas K. Harden was appointed as the chancellor of UW-Green Bay, with an annual salary of $216,000. Both chancellors will take office on June 1.

"We have high expectations for these new leaders," said UW System President Kevin P. Reilly. "This is a critical time for our nation, our state, and our universities. All UW campuses, including those in Green Bay and River Falls, will play a vital role in helping local communities face the challenges ahead. Chancellor Harden and Chancellor Van Galen bring experience, vision, and demonstrated competence to the important role of advancing these fine UW institutions and serving their many constituents."

In the Midwest, leaders of similar comprehensive universities (those offering baccalaureate and master's degrees) earn between $175,000 and $354,500, with a median salary of $225,750.

"Serving as chancellor of a UW institution is very demanding, requiring that these leaders work effectively with a wide range of students, alumni, faculty, staff, community leaders, donors, legislators, and others. That's why we insist on employing a very rigorous and very public selection process," said UW System Board of Regents President Mark Bradley. "Based on what we learned through this process, we are confident that both of these leaders are prepared to help us sustain and enhance the UW System's commitment to academic excellence."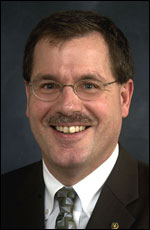 Van Galen (right), a Wisconsin native, will be the 18th chancellor of UW-River Falls. Van Galen is currently the vice president of advancement at the University of West Florida.
"I am grateful for the support of the UW System Board of Regents in confirming me as the 18th chancellor of the University of Wisconsin-River Falls," Van Galen said. "It will be an honor to work collaboratively with the UW-River Falls community and the highly acclaimed UW System to advance higher education in the St. Croix Valley and beyond.
"UW-River Falls is an outstanding student-centered university located in a dynamic, rapidly growing region of the state. The university has dedicated faculty, staff and students, a beautiful campus, and a community that is deeply committed to the future of UW-River Falls," he said.
"By all accounts, including my own, UW-River Falls is an excellent university with a bright future. There will be much to learn as a new chancellor. I look forward to conversations with UWRF's faculty, staff, students, alumni and friends to better understand the university's traditions, challenges, and hopes and dreams for the future," Van Galen said.
Van Galen earned a Bachelor of Science degree in chemistry from UW-Whitewater. After earning a Ph.D. in analytical chemistry from Kansas State University, he worked as a post-doctoral research associate at the University of California, Berkeley.
"Dr. Van Galen is an ideal fit with the university, and its values and mission. We are eager to begin working with him, and welcome Dean and his wife, Mary, back to Wisconsin," said Connie Foster, interim chancellor of UWRF.
Since 2003, Van Galen has provided leadership for alumni relations, development, marketing communications, and the University of West Florida Foundation. He previously served as vice president for advancement at Truman State University in Missouri. Van Galen began his academic career in 1987 at Truman State University as a chemistry professor, earning honors as Educator of the Year in 1988-89. The Council for the Advancement and Support of Education (CASE) named him Professor of the Year for the state of Missouri in 1991. In 1994-95 he was an American Council on Education (ACE) Fellow.
"On a personal note, my wife Mary and I were both born and raised in Wisconsin, and met on the UW-Whitewater campus in 1982," he said. "We are very excited about 'coming home' to Wisconsin, and becoming part of the River Falls community."
UW-River Falls, ranked by U.S. News and World Report as one of America's Best Colleges of 2008 (Midwestern University-Master's), has an enrollment of more than 6,000 undergraduate students and nearly 500 graduate students. The university employs about 800 people and is the western-most institution in the 26-campus University of Wisconsin System. The chancellor of UW-River Falls is responsible for an annual operating budget of approximately $95 million.
-30-
UW-Green Bay's news release about newly appointed chancellor Harden


Last updated: Thursday, 22-Apr-2010 16:09:22 Central Daylight Time