UW-RF Home > University Communications Home > This Month's News Releases
University Communications
For more information contact news@uwrf.edu.
UWRF Names Silicon Valley Entrepreneur as Distinguished Alumnus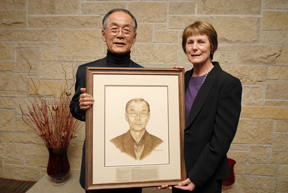 JAN. 5, 2009--Sang Hahn, a highly successful Silicon Valley real estate entrepreneur and noted philanthropist, is the 2008 University of Wisconsin-River Falls Distinguished Alumnus.
Sang Hahn, who graduated from the University of Wisconsin-River Falls with a master's degree in agricultural economics in 1975, has given generously to UWRF and to a host of international efforts, including helping to feed and clothe the "street boys" of Manila and to educate hundreds of orphans in Papua, New Guinea.
"Upon meeting Sang it becomes almost instantly clear why he is one of UWRF's great success stories," said UWRF interim Chancellor Connie Foster, who presented the honor based on the recommendation of the Faculty Senate External Relations Committee. "He is a remarkably generous, caring, and insightful man. We are truly fortunate to have him as an alumnus and as a friend."
Hahn arrived in the United States in 1974 with his wife and three children, $8,000 in his pocket, and dreams of a better life. Born in 1938 in Japanese-occupied Korea, his early years were filled with uncertainty, as his country became the frontline of the Cold War.
Separated from his family during the Korean War, Hahn managed to complete high school, earn a college degree, and become a high school teacher. He came to the United States in 1973 and soon thereafter relocated to River Falls on the recommendation of a friend. After earning his degree from UWRF, Hahn selected the newly burgeoning Silicon Valley as home base for his operations and invested in an apartment complex.
Working 16-hour days as the apartment complex gardener, maintenance man, painter, manager and promoter, he was able to sell the complex for a $300,000 profit. He had developed a formula for success in the real estate business that would allow him to eventually share the wealth he had accumulated.
Hahn says he has given generously to UWRF in order to help other students like himself in hopes of creating a greater focus on international students and globalization. His philanthropy has extended beyond UWRF and the United States, and includes saving a South Korean hospital from bankruptcy and giving a generous gift to World Vision for tsunami relief.
Photo, above, right: 2008 Distinguished Alumnus Sang Hahn (left) and interim Chancellor Connie Foster pose with a portrait of Hahn commissioned by the University to hang in the Alumni Wall of Fame in Hagestad Hall. The portrait was drawn by freelance artist Benita Close, who works in the UWRF financial assistance office.
-30-
Last updated: Thursday, 22-Apr-2010 16:09:22 Central Daylight Time