UW-RF Home > University Communications Home > This Month's News Releases
University Communications
For more information contact news@uwrf.edu.
College Recognizes Teacher and Advisor of the Year
By Rachel Hafele
University Communications
DEC. 12, 2008—The University of Wisconsin-River Falls College of Education and Professional Studies recently awarded two of its faculty, Debra Allyn and Mark Gillen, the Outstanding Faculty Member and Advisor of the Year Award for the previous academic year.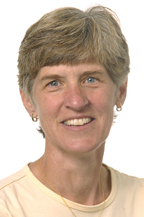 Named COEPS Advisor of the Year, Deb Allyn is a professor of health and human performance. She received a B.S. in physical education and her M.S. in exercise physiology at St. Cloud State University. She received her Ph.D. in biomechanics at the University of Minnesota. Her strong interest in volleyball and research on the sport of volleyball has lead to her being a member of USA Volleyball's Sports Medicine and Performance Commission's Biomechanics Resource Advisory Committee. She is the HHP department's exercise and sport science coordinator and earned the College of Education and Professional Studies, Outstanding Faculty Member Award in 2003. She is currently chair of the department. "To be recognized by the students for this award is an honor," Allyn said.
Faye Perkins, dean of the CEPS, said both Allyn's advisees and other students appreciate her mentorship and teaching abilities. "Deb is always willing to help out a student even if they aren't her advisees," said Perkins. "Because of her extensive work with our international students, Deb previously received the 'Helping Hand' award. All students know they can trust Deb's advice."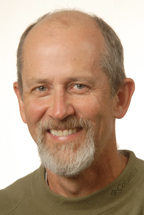 Receiving the COEPS Outstanding Faculty Member is Mark Gillen, a professor in the counseling and school psychology department. He received his Ph.D. from the University of Arkansas in 2004, and taught at the University of Tennessee-Chattanooga before starting at UWRF in 2005. He was born and raised in Madison, and has a B.S. in elementary education from UW-Madison and a master's degree from UW-Stout. Previously, he has worked as a school teacher, school counselor, wilderness guide, counselor with juvenile delinquents, and as the director of the Hoofer Outdoor Program at UW-Madison. "I was honored to have been nominated by other faculty," said Gillen. "To have been named as outstanding faculty member in a department and college with many worthy faculty members means a lot to me professionally and personally."
Perkins said Gillen's broad experience is an asset as a college professor. "Through his various professional experiences, Mark brings a wealth of information and real-world examples to his students. His research and scholarly activity are to be commended and his contributions through committee work are greatly appreciated. We are fortunate to have such a dedicated and enthusiastic colleague," she said.
-30-
Last updated: Thursday, 22-Apr-2010 16:09:21 Central Daylight Time