UW-RF Home > University Communications Home > This Month's News Releases
University Communications
For more information contact news@uwrf.edu.
International Education Week Celebrates Diverse Cultures
By Kate Smith
University Communications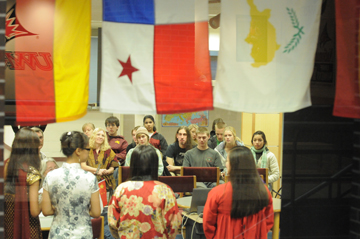 DEC. 8, 2008--The University of Wisconsin-River Falls annual International Education Week held in November presented numerous speakers, movies, discussions, performances and food from a variety of international perspectives and cultures.
The events kicked off in the Global Connections office with presentations and discussions from the College of Business and Economics. There were also samples of various international foods available to participants.
The week's keynote speaker, executive director of Open Arms of Minnesota Kevin Winge, took the Kinnickinnic Theatre stage late in the afternoon and welcomed the crowd. Winge discussed his work with HIV/AIDS activism in both the Twin Cities area and internationally. He encouraged the audience to get involved in global activism during their college years. "Life truly is fleeting. If there is anything we wish to accomplish, now is the time," Winge said.
The theme shifted to fair trade on the second day, and presentations from the College of Arts and Sciences were the focus. A variety of the university's study abroad tours and service programs were presented by faculty and staff throughout the day, concluding with a discussion and showing of "Black Gold," a film dealing with the issue of fair trade.
The College of Agriculture, Food and Environmental Sciences took the spotlight on day three with presentations on topics such as sustainability, diversity and agriculture around the world. UWRF Multicultural Services Advisor Linda Alvarez presented information on her work with a nongovernmental organization's efforts to help a slum in Nairobi, Kenya, and encouraged students to get involved with helping those in need.
Events on day four focused on the College of Education and Professional Studies and dialogue between cultures. A variety of international cultures were displayed during an afternoon dance performance presented by UWRF ballet artist-in-residence Marius Andahazy. UWRF students and the Convent of the Visitation School's ballet students demonstrated character dances from a variety of cultures, as well as how to use castanets while dancing.
The final day included discussions of organizations and teaching for global economics and development. A brown bag lunch featured presentations from many organizations, including Bread for the World and the Peace Corps. UWRF International Studies Program Director Charlie Rader presented information on the university's international studies major.
The week's events concluded with a dinner featuring foods of the Caribbean. Economics professor and UWRF Association for International Development Director Jacqueline Brux was pleased with how the week turned out.
"There was one excellent program after another. I learned a lot from the various speakers, and my students are saying the same," she said. Brux said she is grateful for everyone who participated during the week and said she is already looking forward to helping plan next year's program.
International Education Week is sponsored by UWRF Global Connections, the UWRF Association for International Development, the UWRF Center for Economic Education and the National Council on Economic Education. For more information, contact Brux at 715-425-3335 or jacqueline.m.brux@uwrf.edu.
-30-
Last updated: Thursday, 22-Apr-2010 16:09:20 Central Daylight Time