UW-RF Home > University Communications Home > This Month's News Releases
University Communications
For more information contact news@uwrf.edu.
Ag Challenge Tests Student Agricultural Skills
By Jessica Wead-Bergan
UWRF University Communications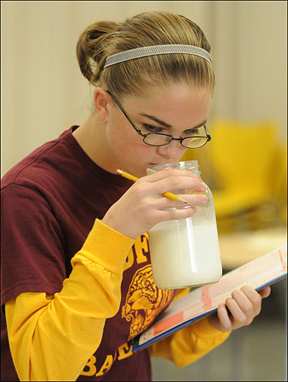 NOV. 14, 2008--In October, the University of Wisconsin-River Falls hosted the annual Falcon Agriculture Challenge where some 60 students from eight high schools gathered at the campus lab farms to test their agricultural knowledge and skills.
"This year is the first time that UWRF hosted the Falcon Ag Challenge, however, it has been hosting fall contests [at other sites] for many years," said Kellie Claflin, UWRF student and Falcon Ag Challenge assistant coordinator. In the past, Minnesota FFA chapters used the River Falls contests to qualify for their Career Development Event Teams for the State FFA Judging contests.
"After we found out that the Minnesota FFA chapters were no longer using our contests as a state qualifier, we decided to revamp our contest," said Claflin, an agricultural education major from Osseo, Wis. "We gave it a new name, the Falcon Ag Challenge, which was an invitational contest for both Minnesota and Wisconsin schools."
The high schools that participated from Minnesota included Medford and Stewartville, while the Wisconsin schools included: Fall Creek, Clayton, Brillion, Plymouth, Unity and Sparta. Sam Lester, a student from Medford (Minn.) High School evaluated a milk sample in the Dairy Foods Evaluation Contest. The dairy foods contest included cheese ID, milk flavors, milker unit evaluation, real vs. imitation products, production test, and a marketing test. Other contest areas were horse, general livestock, and poultry evaluation. Results from the event are available at http://www.uwrf.edu/ag-education/Teachers/fac/welcome.html.
Lester's agricultural advisor, Medford high school teacher Tim Larson, said it was a good learning experience for the students because some of them have never been to the lab farms before. "We only have five dairy farms in the school district and many of the students found it quite interesting," Larson said. "I feel that this activity was great for the kids because they can apply what they have learned in the classroom into the contest, and also find out possible future employment opportunities related to these events."
Larson also said the Ag Challenge was great for those reasons, but it also gave the students a chance to visit and explore the UWRF campus if interested in applying after high school graduation. "The contests would not have been as successful without the 50 UW-River Falls students who volunteered their time on the day of the contest, and in preparation for the contests," says Claflin. "The FFA contests that UWRF hosts are a great recruiting tool for the University.
They are exposed to the incredible facilities, friendly students and staff, and amazing campus atmosphere." This year's contest coordinator was Walter Taylor, an agricultural education major from Sheboygan. Agricultural education Associate Professor Tim Buttles of Glenwood City served as the faculty coordinator. UWRF agricultural education graduate student Sara Novotny, from Stanley, and UWRF staff member Fay Westberg of River Falls also assisted with the contest preparations.
-30-
Last updated: Thursday, 22-Apr-2010 16:09:18 Central Daylight Time