UW-RF Home > University Communications Home > This Month's News Releases
University Communications
For more information contact news@uwrf.edu.
Food Microbiology Symposium was a Success
NOV. 3, 2008--In mid-October, the University of Wisconsin-River Falls hosted representatives from 16 international companies for the 28th Annual Food Microbiology Symposium. Korea, Germany, Canada, and the United States were some of the areas represented during this four-day event.
Purnendu (P.C.) Vasavada, professor of food science and the University of Wisconsin-River Falls conference founder/coordinator, said that this year's symposium was a little different than last year.
The symposium had a more local and regional focus because of the several major food recalls that have been taking place in these local areas, he said. Another different aspect of the symposium was that a full day of the symposium was devoted to food allergen issues. The participants had the privilege of watching three different companies give demonstrations of their products and show the different instruments and supplies available for food allergen testing.
The speakers talked about different varieties of food allergens, how to detect and diagnose them, and how some food industries manage recalls.
Paul Hall, president for the AIV Food Safety Consultants, LLC, talked about how the food industry needs to work hard at allergen control requirements. "Everyone in the food industry should have a plan around allergens," he said. There are many critical steps one can take to reduce common allergen transfers. With technology advancing so rapidly, there are many pieces of automated equipment available to help with these steps, he said.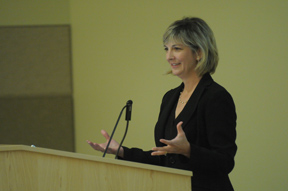 This year's audience had the opportunity to listen to keynote speaker Karen Mullery (pictured right) from 3M Microbiology Global, recipient of the prestigious Black Pearl Award from the International Association for Food Protection.
Other speakers who participated in the symposium were: J. Stan Bailey, bioMerieux; Reginald Bennett, FDA; Larry Cohen, Kraft Foods; Beth Ann Crozier-Dodson, Kansas State University; Jonathan DeVries, General Mills; Sigrid Hass-Lauterbach, R-Biopharm; Wilhelm Holzapfel, Karlsuhe, Germany; Tadhg O'Sullivan, The Netherlands; Scott Russel, University of Georgia; Rick Stier, Consulting Food Scientists; Steve Taylor, Food Allergen Research and Resource Program (FARRP); Sereban Teodoresco, Johnson Diversey; and Jeff Varcoe, Schwan's Research and Development.
Also new this year, the symposium was dedicated to author and Professor James Jay, who was a keynote speaker at the 1989 UWRF Food Microbiology Symposium. Jay was responsible for writing a textbook that UWRF uses, called Modern Food Microbiology, which is already in its seventh edition. In recognition of his achievements in research and teaching and of his contributions to the quality and reputation of the graduate programs, he was the recipient of the 1992 Distinguished Graduate Faculty Award from Wayne State University.
Vasavada said the group spent time discussing and reflecting on how Jay made a huge impact on the students and symposium. "We were glad to dedicate this program to Professor James Jay," said Vasavada.
UWRF has been putting the symposium on for 28 years already, and it has come a long way since the first one, said Vasavada.
-30-
Last updated: Thursday, 22-Apr-2010 16:09:16 Central Daylight Time