UW-RF Home > University Communications Home > This Month's News Releases
University Communications
For more information contact news@uwrf.edu.
Student Film to Be Presented At Film Festival
NOV. 3, 2008--One of the films created by a University of Wisconsin-River Falls Communications Studies and Theatre Arts department special topics class was selected as an official selection in the Milwaukee Spotlight Student Film Festival and took first place under the narrative filmmaking genre.
In a special topics course for feature filmmaking taught by Evan Johnson, two groups were required to make an original 10-minute film for their final project.
Both films were a success and one, "Pushed Over," was entered in the Milwaukee Spotlight Student Film Festival. The festival included pieces put together by both high school and college students. The types of films in the festival covered a wide variety of genres including poem interpretations, animation, short documentaries, narrative filmmaking and experimental shorts.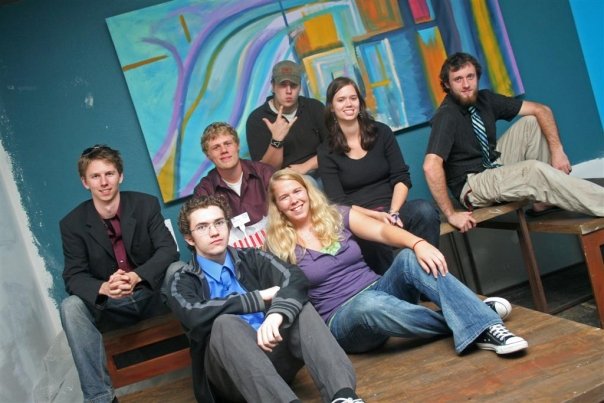 The student film crew (L to R) included Brad Brookins, a senior majoring in English from St. Paul , Chris Kibellus, a sophomore from Exeland , former UWRF student Ryan Brennan, former UWRF student Cody Dinsen, who composed the score, Melissa Murphy, a senior majoring in English from Stillwater, Minn., Holly Conwell, a junior from St. Michael, Minn., and Nathan Piotrowski, a sophomore majoring in English from Stevens Point. Not pictured is Beth Van Kampen is a junior majoring in psychology from St. Paul.
-30-
Last updated: Thursday, 22-Apr-2010 16:09:16 Central Daylight Time