UW-RF Home > University Communications Home > This Month's News Releases
University Communications
For more information contact news@uwrf.edu.
Soils Students Attend National Agronomy Crops and Soil Science Conference
By Jessica Wead-Bergan
UWRF University Communications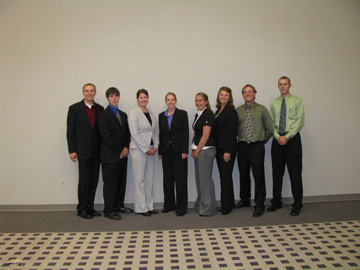 NOV. 3, 2008--University of Wisconsin-River Falls students and Holly Dolliver, an assistant professor of plant and earth science at UWRF, traveled to Houston in October for the Annual National Agronomy Crops and Soil Science Conference where UWRF students received awards, an officer position and scholarships.
At the conference, students observed scientists, presented various research projects, networked with other agronomy clubs from across the nation, talked to graduate school representatives and competed in contests, in addition to other educational and professional activities.
Tryston Beyrer, a sophomore crop and soil science major from Colfax, said, "It gave insight to many job opportunities in the future, creating future contacts, enhancing leadership skills, along with opening one's eyes to opportunities that exist from different kinds of products and jobs to work with; to picking out a graduate school to attend."
As well as attending the conference, and listening to speakers, the students also toured local agriculture systems including cotton and beef producers in the Texas coastal area, and learned how rice is grown and marketed.
UWRF attendees found the tour to be very interesting, providing a close-hand look at agriculture in the southern region of the United States. They enjoyed seeing how people managed agriculture differently there, than people do from Wisconsin and Minnesota.
Derek Husmoen, a senior agricultural engineering technology major from Arcadia said, " Our group had the chance to see the cotton harvesting machines up close while they were running in the field, and the beef farm allowed us to interact with the cattle as well. Our tour guide was great at keeping the whole group interested and attentive."
The undergraduate organization Students of Agriculture, Soils and Environmental Science (SASES) fosters students in many ways, helps build networks, and provides them with an abundant amount of learning opportunities. This year, Ross Bender, a senior crop and soil science major from Cleveland, Wis., was elected as the National SASES vice president. He will serve on the organization's national board.
UWRF quiz bowl team members placed third in a competition between 15 teams consisting of four members. The UWRF team included: Mike Weber, a senior agricultural studies major from Mondovi, Husmoen, Beyrer, and Ashley Sollman, a senior agricultural business major from Turtle Lake.
Bender took fourth place in the National Speech Competition. He received the topic of biofuels and had four hours to prepare an oral speech.
Sollman and Amy Robak, a junior conservation major from Oak Park, Minn., received scholarships from the National Golden Opportunity Scholars Program.
"The Golden Opportunity Scholars is a highly selective program for undergraduates," said Dolliver. "The students must apply to be a part of the program and only about 15 are selected each year. Selection is based on academic achievements and interest in crop and soil sciences. Once selected, the scholars participate in a variety of networking opportunities, field experiences, conferences, and presentations to build and expand their knowledge of crop and soil sciences."
UWRF students also competed in the National Club Poster Contest in which they received third place. The poster was made by the seven UWRF participants before the conference and was presented by Beyrer and Emily Wegner, a senior crop and soil science major from Pittsville, during the contest.
Husmoen and Robak both were asked to moderate two contests that took place at the conference. Husmoen was in charge of the undergraduate oral research symposium and Robak oversaw the undergraduate research posters.
Overall, UWRF students had fun and did very well in all of the competitions they competed in this year at the conference, said Dolliver. Next year's conference will be held in Pennsylvania.
"I enjoyed the opportunity to listen to presentations about research that students and faculty are conducting at Universities around the world," said Husmoen, who among the other students received funding from a Rothermill endowment to attend the conference. "These presentations looked at research in all fields of agriculture, whether it was crops, agronomy, soil science, environmental science, or even geology. With nearly 10,000 attendees at the conference, there was never a time when our group had to find something to do. Houston is a beautiful city, and it was surely a worthwhile educational trip."
Cutline: UWRF participants at the National Agronomy Crops and Soils Conference in Texas include (L to R) Ross Bender, Tryston Beyrer, Amy Robak, Holly Dolliver, who is assistant professor of plant and earth science at UWRF, Emily Wegner, Ashley Sollman, Michael Weber, and Derek Husmoen.
-30-
Last updated: Thursday, 22-Apr-2010 16:09:16 Central Daylight Time