UW-RF Home > University Communications Home > This Month's News Releases
University Communications
For more information contact news@uwrf.edu.
Students Plan Spring Break Before Snow Flies
By Rachel Hafele
UWRF University Communications
NOV. 3, 2008--With snow not yet falling, many students at the University of Wisconsin-River Falls are already thinking of spring break. They won't be flying off to Cancun or Daytona Beach, but they will be helping those in need through the UWRF Program: Destination Spring Break, an organization that provides students with a challenging and fun opportunity to lead and learn through active service experiences.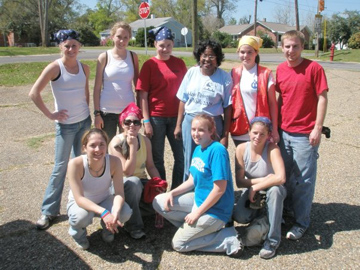 The Destination program began in 2006 on the UWRF campus. The first destination involved helping rebuild the Gulf Coast after the devastation from Hurricane Katrina. In 2007, the destination group branched out to many locations in the country including Tennessee, Alabama, Illinois, Mississippi and Missouri.
Amy Lloyd, a leadership training coordinator at UWRF, led the pack of future leaders. "Destination is a unique opportunity for students that combine service, along with community building and a chance to see life outside of River Falls," she said.
Lloyd says the trip often influences students to make the choice to continue helping out "Students come back from their experiences transformed; they are empowered to make a difference in their local communities."
In 2007, the destinations included Boulder Creek, Calif., Washington D.C., Biloxi, Miss., and Cumberland Trail, Tenn.
In California, a group of 10 headed to Boulder Creek. There, they joined the YMCA Camp Campbell Outdoor Science School as cabin leaders, helping to teach fifth and sixth grade students. Their goal was to help the students in building environmental awareness and stewardship.
The Washington D.C. group, consisting of six participants, had the mission of working with the Youth Service Opportunities Project, focusing on helping the homeless of the city. The students volunteered at different sites throughout the week, taking in opportunities to host a free meal for homeless men and women and listen to the stories of those who are homeless, have been homeless, or are working closely with the homeless.
Some 10 participants helped to continue to rebuild and clean up the city of Biloxi, devastated by Hurricane Katrina. The students worked with the organization Hands on the Gulf Coast to clean up the area.
The last group of the program traveled to Cumberland Trail, Tenn. Their assignment was to help build the Cumberland Trail, heading throughout the Appalachian Mountains. The students worked with the Cumberland Trails Conference, whose key mission is to preserve the historical and cultural heritage of Tennessee. Fifteen students provided environmental services while enjoying the Tennessee scenery.
The many students who participated in this helping organization have nothing but the best to say about the many trips they took. Lindsey Neby, a junior physics major from Comstock and who was a participant in last year's trip to California said, "The Destination organization is growing. It was an excellent experience for those who went, and it was an excellent experience for those you are helping."
This year, the trips include hunger issues in Perryville, Ark., (Heifer International Ranch), the first agriculture-focused trip that Destination has offered, Tornado Relief and Sustainability Promotion in Greensburg, Kan., where help could range from simply painting to dirty demolition, and urban issues in Atlanta, where students will work with Essential2Life or Expose in one of the neediest areas of the country. Groups will also help out with Hurricane Ike relief in Houston by partnering with Community Collaborations International.
For more information on the Destination: Spring Break organization, contact Jacob Cavanaugh at jacob.cavanaugh@uwrf.edu or Amy Lloyd at amy.lloyd@uwrf.edu .
Cutline: A group from UWRF assisted with ongoing hurricane cleanup efforts in Biloxi, Miss., last spring through the Destination: Spring Break community volunteer organization on campus. Front row L to R: Crystal Gutzke, a speech communication major from Mayer, Minn ., Lacy Steffenhagen, Jamie Renier, a sophomore agricultural education major from Denmark, Wis ., Michelle Brown, a speech communication major from Minneapolis ; Back Row: Kayla Gaulke, a junior psychology major from River Falls , Jessie Behrman, Ashley Wentz, a sophomore biology major from River Falls, Biloxi resident and community organizer Miss Aniese, Renee Allhands, a senior marketing communications major from Oregon, Wis ., and Jared Acker, a senior food science major from Waunakee .
-30-
Last updated: Thursday, 22-Apr-2010 16:09:16 Central Daylight Time