UW-RF Home > University Communications Home > This Month's News Releases
University Communications
For more information contact news@uwrf.edu.
Trees, Plants Installed in University Center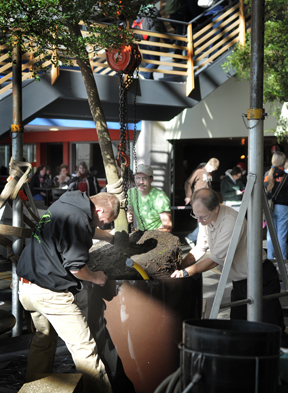 NOV. 3, 2008--Some 40 plants were installed last week in the "green" University Center at The University of Wisconsin-River Falls by McCaren Designs of St. Paul. UWRF alumnus Troy Brantner (B.S. 1997), floral manager for McCaren, coordinated the installation. Eight plant types included Gold Star, Hawaiian Warneckii Cane, Black Gold Snake, Milky Way Cast Iron, Silver Bay Chinese Evergreen, Kentia Palm, Golden Pothos, and Black Olive Tree. The UWRF Horticulture Club will perform maintenance on the plants along with UC employee Bea Sattler. Three regional companies bid on the $25,000 project, said project committee chair Cara Rubis. Committee members included University Center employees Heather Hoffman and Bea Sattler and UWRF Horticulture Club President Alyssa Janilla. Terry Ferriss, a professor of horticulture at UWRF, was a volunteer consultant for the project.
-30-
Last updated: Thursday, 22-Apr-2010 16:09:15 Central Daylight Time