UW-RF Home > University Communications Home > This Month's News Releases
University Communications
For more information contact news@uwrf.edu.
UWRF Faculty and Staff Honored at Reception
By Kate Smith
UWRF University Communications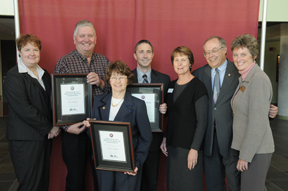 OCT. 20, 2008--Several University of Wisconsin-River Falls employees were awarded the top recognition awards at a reception in the University Center Oct. 15.
Chancellor Connie Foster opened the ceremony, thanking the recipients for their service and commitment to UWRF. "The leadership recognized here today is an important part of a tradition of excellence and the culture of this campus," she said.
Mary Halada, vice chancellor for administration and finance, presented the Chancellor's Recognition Award for Classified Staff to Ron Lundgren, a carpenter in the facilities management department, and Doreen Cegielski, program assistant in the animal and food science department.
Halada also presented the Chancellor's Award for Excellence for Academic Staff to Mark Kinders, director of the University Communications office. Provost Terry Brown recognized Travis Tubre, a professor in the psychology department, as the Distinguished Teacher of the Year.
Ron Lundgren
Ron Lundgren has been a part of the UWRF campus community since 1991. He works as a general services carpenter for the facilities management department.
Lundgren began his career at UWRF as a LTE carpenter. From there, he moved into an facilities repair position before transferring to work at UW-Stout as a full-time carpenter. Lundgren later returned to UWRF full-time to take his current position of general services carpenter.
When he is not working, Lundgren enjoys spending time with his grandkids and pursuing his hobbies, which include cooking, gardening and yard work.
Doreen Cegielski
Doreen Cegielski has served the UWRF community in a variety of capacities for more than 15 years. She began her career at UWRF in 1992 working in the University Bookstore. Since then, she has worked in the health and human performance department, the animal and food science department, continuing education/extension and career/counseling services. Cegielski's current position is an academic department associate in the animal and food science department, where she oversees student workers, manages the UWRF equine herd inventory and manages aspects of the department budget.
In addition, Cegielski has also served on several UWRF committees over the years, including co-chair for the 2007-08 Employee Development Committee. She was also a member of the Chancellor's Recognition Award for Classified Staff voting committee and the Sally Margis Award voting committee in 2007. Other committees she has served include the Campus Safety Committee, the Chancellor's Student Recognition Committee and the Commission on Status of Women.
Cegielski is also an active member at St. Bridget's Church, where she has volunteered since 1992. She has assisted with a variety of projects and campaigns ranging from sewing to fundraising to ministry. Cegielski has four married children and nine grandchildren.
Mark Kinders
Mark Kinders has served as director of University Communications for UWRF since 1985. He is responsible for media, community, legislative and congressional relations, as well as overseeing the photography services and sports information departments. In December 2008, Kinders will assume the Vice President for University Relations position at Northeaster State University in Oklahoma.
During his time in this position, Kinders has contributed significantly to endeavors at UWRF. He initiated several legislative advocacy programs, including Falcon Action Network, which helped secure funding for UWRF's health and human performance building.
Kinders is also currently the chair of the American Association of State Colleges and Universities Advisory Council of Communications and University Communications, which advises the AASCU on its communications with Congress, the administration and the public. The AASCU's membership consists of 430 public higher education colleges, including those of the University of Wisconsin System. He has received numerous professional and service awards from various organizations.
He received his bachelor's degree from the Medill School of Journalism at Northwestern University, a master's degree in history from UWRF and a master's degree in University Communications through the Executive Program at the Humphrey Institute of the University of Minnesota. He resides in Prescott with his wife, Linda.
Travis Tubre
Travis Tubre has been an associate professor in UWRF's psychology department since 2001. He teaches courses in numerous areas including general psychology, industrial/organizational psychology, psychological testing, research methods, and employee selection and training.
In addition to his role as teacher, Tubre has served the UWRF community in several other ways. He is co-advisor of the student chapter of the Society for Human Resource Management, as well as advisor to the Psychology Society and Men's and Women's Lacrosse Clubs. Other positions he has held include chair of the CAS Curriculum Committee and Faculty Senate liaison to the Academic Staff Council.
Tubre has also received several awards throughout his UWRF career. In 2006, he was awarded outstanding mentor for the UWRF McNair Scholars program. Other awards Tubre has received include the Excellence in Advising Award and the Excellence in Scholarship Award from the College of Arts and Sciences.
Tubre is a consultant and researcher, studying topics such as team-based training and employee testing. His research efforts have received awards from several professional associations and universities, and he has been invited to present at venues such as the Massachusetts Institute of Technology and the Science Museum of Minnesota.
Tubre received his bachelor's degree in psychology from the University of Southwestern Louisiana and his master's degree and doctorate in industrial and organizational psychology from Texas A&M University.
# #
Photo cutline: L to R: Provost Terry Brown, Ron Lundgren of Facilities Management (Chancellor's Recognition Award for Classified Staff) , Doreen Cegielski of Animal and Food Science (Chancellor's Recognition Award for Classified Staff), psychology Professor Travis Tubré (Distinguished Teacher), Chancellor Connie Foster, University Communications Director Mark Kinders (Chancellor's Award for Excellence for Academic Staff) and Vice Chancellor for Administration and Finance Mary Halada.
-30-
Last updated: Thursday, 22-Apr-2010 16:09:14 Central Daylight Time