UW-RF Home > University Communications Home > This Month's News Releases
University Communications
For more information contact news@uwrf.edu.
UWRF Faculty Receive PDK Grant to Assist Kenyan Daycare Development
By Kate Smith
UWRF University Communications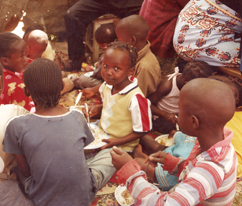 OCT. 13, 2008--Two faculty members at the University of Wisconsin-River Falls, Jose Vega, a professor of teacher education and Linda Alvarez, multicultural services advisor, recently received a grant from the national education organization Phi Delta Kappa to assist in the development of an early childhood daycare center in Kiambiu, a low-income neighborhood in Nairobi, Kenya.
Since 2007, Alvarez has worked with the Kenyan nongovernmental organization Leo Community Development Network (LECDEN) to better the lives of HIV/AIDS-affected children. The idea for the daycare center came to Alvarez and her LECDEN colleagues after violence significantly increased in Kiambiu and its surrounding neighborhoods.
Although Kenya is one of Africa's most promising countries--its economy has been growing at a rate of 5 percent and its 35 million citizens have lived in relative peace--the country has experienced a period of severe post-election civil unrest and inter-ethnic violence since December 2007. The violence is taking its toll on the country's citizens, says Alvarez. Hundreds of homes have been looted and burned, and thousands are estimated dead in the western part of the country.
After these social and economic changes occurred, Alvarez and the other members of LECDEN realized there was a pressing need for a safe haven for the children of the community. From there, Alvarez began looking for places to obtain funds for an early childhood daycare center in Kiambiu. Her goal was to provide safety and education for the community's young children while their parents were at work, which would in turn enable older children to return to school instead of having to watch younger siblings during the day.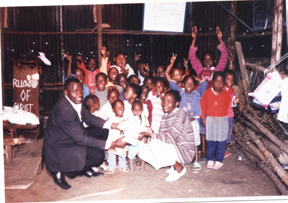 Alvarez said she began searching for ways to get involved with international relief in 2005 after being inspired by a talk given by UWRF Distinguished Alumnus and then-World Vision Pakistan Director Sigurd Hanson. Not long after, she learned about the need in Kiambiu from one of her advisees and felt she had to get involved. The student also informed Alvarez about LECDEN, and before long Alvarez became the volunteer coordinator for the group.
After her first trip to Kiambiu in summer 2007, Alvarez returned to UWRF with many stories to tell. She has given several presentations about her trip, including one to the UWRF chapter of PDK, whose president she later turned to for help in writing the grant proposal for assistance in funding the daycare center.
Alvarez and Vega, who is the UWRF PDK chapter president, wrote the grant proposal to PDK International and received funds from the organization to go toward the center.
The funds from the grant, along with donations from the River Falls community, will provide for the hiring of an additional daycare provider, as well as materials including utensils, plates, cups, blankets, mats, a classroom-sized blackboard and year's supply of chalk, wooden tables and benches. Parts of the funds were additionally used to cement the floor of the center, which is also used as a community center and a church.
With the help of the PDK grant and all of the community donations, the daycare center is already up and running. Alvarez reports that the center has already accommodated approximately 100 children throughout Kiambiu, and several informational workshops for parents have also been held there. Topics covered in the workshops included oral rehydration and sanitation, with more to come in the future.
Alvarez said she is pleased with the progress the center has made in its first year of existence and the opportunities made available through the PDK grant, but said there is still much to be done. "Other NGOs are very encouraging," she says. "They tell us that we've accomplished a lot with the people of Kiambiu over the past year, that LECDEN has had a great start.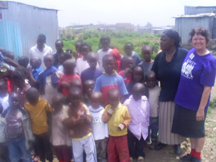 "We're able to give them [children] a scant cup of porridge in the morning and a bit of rice and vegetables in the afternoon, but we have not yet been able to afford an increase in their protein intake," Alvarez said. "While we wait for other grants to be funded, we live month-to-month, very grateful indeed for our River Falls folks who have collaborated with us and given donations of materials, talent and funds."
As part of community workshops, citizens of the neighborhood made lists of the community's greatest needs, which Alvarez is taking into account for next year. The top priorities are food, medicine, school fees for uniforms, shoes and supplies, and a library. Alvarez also hopes to obtain funds for a feeding program so the children will be able to receive a steady diet of necessary nutrients.
"The needs are many but can be met with what to us would be a small amount of donations," says Alvarez. "No amount is too small to help these children make it to the next day.
Alvarez said she plans to write more grant proposals to organizations such as PDK International, as well as continue to encourage community donations by speaking to church groups and other campus and community organizations. She is also selling necklaces with the profits benefiting the center.
Alvarez said her experiences in Kiambiu have impacted her greatly; and this impact is what drives her. "If you hold a Kiambiu child on your lap, it is just like holding your own child," she says. "You can't help but wonder what great contribution this child may someday make. International travel teaches us how much alike we are rather than how different we are. You realize how interrelated we really are."
For more information about the project, visit www.lecden.org , or contact Alvarez at 715-425-3531 or Vega at 715-425-3697.
-30-
Last updated: Thursday, 22-Apr-2010 16:09:13 Central Daylight Time