UW-RF Home > University Communications Home > This Month's News Releases
University Communications
For more information contact news@uwrf.edu.
Student Teachers Back from the Land Down Under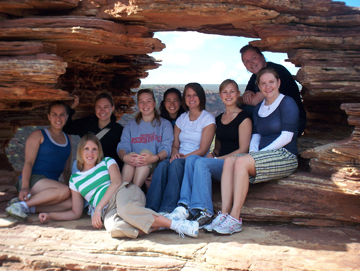 OCT. 13, 2008--Nine student teachers from the University of Wisconsin-River Falls traveled to the world down-under in June with teacher education Professor Gayle Ward for an eight-week student teaching experience and study tour. While there the students explored the Australian land and culture while being immersed in four different school communities.
Student teachers included: (Photo, L to R): Stephanie Phillips of Clintonville, Cathy Polnaszek of Andover, Minn., Jessica Krautkramer of Marathon, Michelle Abts of La Crosse, Michelle Reams of Hudson, Bobbi Jo Danger of Braham, Minn., Rachel Wilber of Trempealeau, Ashlee Quilling of Menomonie, and Bethany Barnett of Kenosha.
All nine students are elementary education majors with early childhood minors and were placed in early childhood settings with inquiry based learning as a valued methodology. "It was amazing to see children direct their own learning," Danger said.
Since returning many of the student teachers are student teaching in the United States, and are sharing things they learned with children here.
Many of the students said the Australian study tour was a life changing experience. Abts, who took digeridoo lessons while there, has introduced the Australian instrument to her third grade class, and Quilling has also worked to bring parts of Australia to her students through a pen-pal program she set up and by learning geography of Australia.
While in Australia, the UWRF students also participated in an array of activities. The trip began with five days in Cairns, Queensland, which gave the group an opportunity to snorkel and dive on the Great Barrier Reef and to trek through the rain forest with a crocodile viewing boat trip down the Daintree River. Students also were able to see animals native to the country such as koalas and kangaroos.
Students also participated in an integrated study of Australia, which allowed them to experience an introduction to Aboriginal culture, as well as researched the early European settlement of the continent. This prompted research-oriented visits to the Fremantle prison, the West Australian art gallery, the Maritime and army museums, the Perth mint and the zoo.
The group also journeyed north by bus to see the dolphins at Monkey Mia and the gorges of Kalbarri and experienced an aerial view of Ayers Rock. Other adventures included "squidding," or fishing for squid at night using a jig off a pier and a night walk on the beach followed by stories around a fire with an inspirational Aboriginal guide named Capes.
-30-
Last updated: Thursday, 22-Apr-2010 16:09:13 Central Daylight Time