UW-RF Home > University Communications Home > This Month's News Releases
University Communications
For more information contact news@uwrf.edu.
UWRF to be Featured on Fox-9 "Blueprint for Green" Show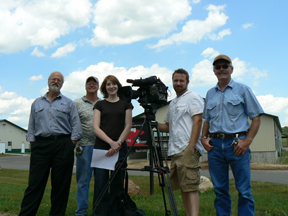 SEPT. 26, 2008--Staff from " Blueprint for Green ," a syndicated television program on sustainable building practices, visited campus this summer for a segment that will air at 6:30 a.m. Saturday, Oct. 4, on FOX-9. Hosted by former Twin Cities news anchor Randy Meier, the show is produced by Wall-to-Wall Media. Producer Amanda Burge and Emmy-Award winning 2004 alumnus Nick Kesler, a former photojournalist/editor for Wall-to-Wall Media and KSTP-TV and currently principal of Clam Lake Films, visited the University Center, the Dairy Learning Center and Mann Valley Laboratory Farm. (Left, L to R:) Burge (third from left) and Kesler (second from right) interviewed Kelly Cain, director of the St. Croix Institute for Sustainable Community Development and UWRF professor of environmental sciences; Dean Olson, UWRF professor of agricultural engineering technology; Bill Connolly, UWRF Lab Farms director; Dale Gallenberg, dean of the College of Agriculture, Food and Environmental Sciences (not pictured); and Mike Stifter, director of facilities management (not pictured), about sustainable practices on campus and in the classroom.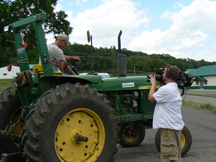 Pictured: Kesler (below) and Connolly get up close with one of the farm's residents, and (right) Kesler filmed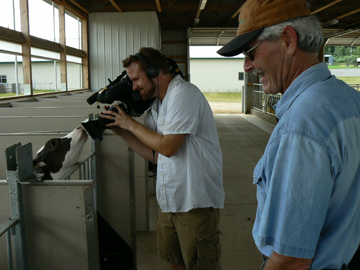 Olson driving the bio-diesel-fueled farm equipment, which is run on converted waste cooking oil from the campus food service.
-30-
Last updated: Thursday, 22-Apr-2010 16:09:11 Central Daylight Time