UW-RF Home > University Communications Home > This Month's News Releases
University Communications
For more information contact news@uwrf.edu.
Banks Center Dedication Set for Oct. 4
By Lacy Lukaszewicz
UWRF University Communications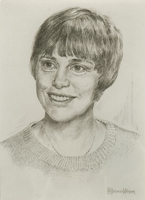 SEPT. 26, 2008--A new center for interdisciplinary studies at the University of Wisconsin-River Falls will be dedicated over Homecoming weekend.
The public can tour the new Joanne Belfiori Banks Center For Interdisciplinary Inquiry on Saturday, Oct. 4. Starting with a brief program at 11:30 a.m. is followed by a reception and tour of room 103 in the Chalmer Davee Library.
The Center is named for Banks, who received the UWRF Distinguished Alumna Award in 1981. She provided the majority of funds to create the space and the related programs and graduated from UW-River Falls in 1962. Banks was a teacher, scholar, editor, and a pioneer in the interdisciplinary study of humanities and medicine.
The new center is a unique area dedicated to fostering interdisciplinary studies, according to Terry Brown, provost and vice chancellor for Academic Affairs. The discipline of interdisciplinary studies focus on collaborations across fields rather than focusing on one specialty with the aim of creating a new synergy and encourage creative responses between departments, she said.
The space consists of a state-of-the-art-wireless classroom designed specifically for multidisciplinary inquiry and team teaching. It is equipped with moveable tables and chairs, multiple whiteboards and multimedia equipment.
The classroom relies on the circle as a central element of design. Classes are currently being held in the new space. "We want it to become one of the most sought-after classrooms on campus, so faculty don't mind leaving their own building to teach there," said Brown.
The center's endowment also includes an annual lecture series that will bring leading speakers, scholars and thinkers to campus along with future sabbatical funding for interdisciplinary research.
Bank's teaching career included professorships in English, humanities and medicine at major universities such as Pennsylvania State and the University of Virginia. The recipient of many awards, Banks epitomized what Virginia Woolf called "the incandescent mind"--a mind that "burns brightly" and is unrestricted by artificial boundaries or disciplinary allegiances, said Brown.
Outside the center a plaque will greet students with the message from Banks: "It seems to me that the most exciting new knowledge appears when thinkers from two or more disciplines stride boldly onto each other's territories. For some reason, this kind of knowledge often turns practical, which I love, because in my life, thinking and doing have been intimately connected. In any case, academic disciplines are only convenient artifices that should not limit us as we try to uncover new possibilities for our lives." For more information about the center contact Brown at 715-425-3700 or the Office of University Advancement at 888-258-6647 or 715-425-3505.
-30-
Last updated: Thursday, 22-Apr-2010 16:09:11 Central Daylight Time