UW-RF Home > University Communications Home > This Month's News Releases
University Communications
For more information contact news@uwrf.edu.
UW System Approves Early Childhood Degree Completion Program At UWRF
By Rachel Hafele
UWRF University Communications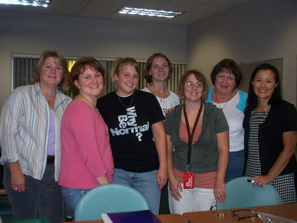 SEPT. 26, 2008--In August, the University of Wisconsin System Board of Regents and the Wisconsin Department of Public Instruction approved a new UW-River Falls degree completion program in early childhood that allows students with an associate's degree to complete their bachelor's degree via including online and interactive television courses and face-to-face workshops.
UW-River Falls will accept credits earned from Wisconsin Technical College System associate's degree in early childhood education and apply them toward the requirement for a Bachelor's Degree in Early Childhood Education. The credits will also apply to Wisconsin Early Childhood Teaching Certification (Birth-8).
The courses offered include TED 255 Reading Guidance (Children's Literature), TED 325 "Diversity in Early Childhood Settings, and TED 451 Integrating Alternative Methodologies in Early Childhood Education. The program will be useful to teachers seeking to meet the requirements of Head Start reauthorization and preschool teachers who want to teach in 4-year-old kindergarten through third grade classrooms. The courses are also suitable for practicing teachers who desire professional development
"I am very excited to be involved with this program," says student Karen Pesik, of River Falls. "I am very grateful for Professor Ward of UWRF and Mary Williams-Greene of WITC for their tireless hours spent on planning and implementing this degree for students who have taken a technical college degree and want to transfer into a university. I have high hopes to graduate from the program this school year."
Through the program, the students will take classes online and using interactive television and will attend face-to-face workshops at UWRF on some Saturdays. The courses will emphasize on connecting children to nature and active exploration. Students who hold associate degree in early childhood education can apply in the fall to enroll in winter or spring courses. Under a new federal grant, students may be eligible to receive scholarships from TEACH Early Childhood Wisconsin.
"We are very excited to have the early childhood transition to degree program up and running," says Gay Ward, a professor of teacher education at UWRF. "It is a dream that has been satisfied after years of work and planning with Wisconsin Indianhead Technical College representing the Wisconsin Technical College System."
More information available at www.uwrf.edu/educator/earlychild or contact the College of Education and Professional Studies at 715-425-3774. More information on the TEACH ECW grant is at www.wecanaeyc.org/teach .
"I would strongly recommend this program above any other for students to transfer into," says Pesik. "The instructors, deans and students are wonderful, helpful and most importantly they treat you as a person and not just a number on the campus."
PHOTO, ABOVE: ( Left to right) Mary Ashleson, a junior from Downing, Stephanie Perry, a sophomore from Hammond , Katrina Back, a sophomore from Albert Lea, Minn., Heather Wimer, a freshman from Dresser, Michelle Schutz, a junior from Prescott, and Sandi Hoag, a sophomore from St. Croix Falls, attended the first meeting of the course TED 325: Diversity in Early Childhood Settings as part of the new distance-learning bachelor's degree completion program in early childhood education. Professor So-Young Tikoo. So-Young, who is a former UWRF professor and who lives in Chicago, attended the one-day workshop and serves as the course's online facilitator. Students also "attend" classes online or via the Instructional Television Network. Photo by Gay Ward.
-30-
Last updated: Thursday, 22-Apr-2010 16:09:11 Central Daylight Time