UW-RF Home > University Communications Home > This Month's News Releases
University Communications
For more information contact mark.a.kinders@uwrf.edu or brenda.k.bredahl@uwrf.edu.
UWRF Gaining Ground on Turning Campus 'Green'
JUNE 13, 2008-- Call it "walking the talk."
As UW-River Falls assists and advises business, industry, local governments, nonprofit organizations and communities to pursue their objectives in sustainable community development, the campus must lead by example in its own sustainability efforts.
Indeed, the university is making progress on multiple fronts to achieve energy sustainability, says Mike Stifter, campus facilities director (below, right).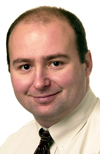 In 2006 Wisconsin Gov. Jim Doyle designated UWRF as one of four UW System campuses to go "off the grid." By 2012, the campus is expected to achieve balance in its energy consumption between traditional sources and alternative, "green" blocks either purchased or produced on campus. The lessons learned and new insights gained by the university are then to be shared across the state.
For UWRF, it means exploring such alternatives as wind, solar and biomass, wedded to comprehensive energy efficiency reviews and conservation tactics.
The deadline is going to be tough to reach, Stifter said. "We may not make it by 2012," he says. But Stifter has an ambitious goal of exceeding the Governor's directive and becoming a national energy efficiency model.
A Sustainability Task Force of faculty, staff, students and administrators is identifying possible solutions. The campus also is collaborating with energy partners River Falls Municipal Utilities (RFMU), Wisconsin Public Power, Inc. (WPPI), and Xcel Energy, on implementing alternative energy.
"We are very committed to do this," Stifter says. He points to progress already made since the Governor's announcement. "Out of a five-state region there are only two or three campuses that are more efficient than we are."
Among the highlights of a five-component campus energy plan are:
·Reducing energy use through education. UWRF students have eagerly agreed to obtain energy for the 10 residence halls on campus through the purchase of "green" blocks, or energy produced from noncarbon-generating power plants, beginning Sept. 1.
The increased cost to students is about $9 per year, but the contribution to achieving campus energy consumption balance is substantial, says Stifter. Combined with green-block energy purchases already approved by students for the student-owned University Center and other campus buildings, some 37 percent of the campus's 16 million kilowatt monthly purchase will be from clean sources.
"That's a strong student commitment," Stifter says.
·Efficiencies and retrofitting. Possibilities being explored include limiting the number of buildings open evenings and weekends through centralized scheduling; scheduling cleaning and reducing access to buildings in the evenings; lighting surveys; commissioning a retrofitting team to monitor campus energy-efficient systems to ensure proper operations; and pursuing Leadership in Energy and Environmental Design (LEED) certification for the recently approved George R. Field South Fork Suites addition and for a new Health and Human Performance Building, soon to be in the planning stages.
·Conversion and reduction projects. The most exciting is the potential to capitalize on solar energy, or even geothermal, says Stifter. One area cited by an energy consultant would be using solar to heat water for the residence halls. The decision will be balanced against the cost of cheaper coal, currently used to fire the campus's power plant, which now heats the water supply.
·Renewable electrical sources. One of the strongest assets is UWRF's off-campus partnerships to find alternative energy sources.
The city of River Falls, through the leadership of a UWRF alumnus, Mayor Don Richards, ranks among the top 10 communities in the state for purchasing clean energy blocks through its partnership with WPPI, which brokers these purchases.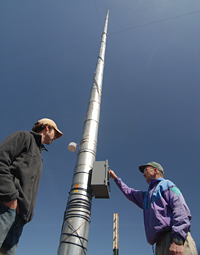 In April, the city, RFMU, WPPI and Xcel erected a tower north of River Falls to monitor the potential for wind turbines for at least nine months with the objective of erecting two 1.5 megawatt turbines on Laboratory Farm No. 2 or elsewhere in the community.
That component is part of the "Powerful Choices" program, conducted by RFMU and WPPI. Stifter, along city council member Matt Fitzgerald, who is an information technology specialist at UWRF, and UWRF environmental science and management Professor Kelly Cain, are members of the committee. Ian Johnson, a graduate student in UWRF's sustainable community development program and who has construction project management experience, is providing research assistance for the effort through an internship.
The initiative will not only benefit UWRF, but could eventually provide up to $1 million bonding annually for a loan fund through which residents can weatherize their homes or install alternative energy such as geothermal, wind turbines or solar power. The model is gaining momentum across the country after being first proposed by the city of Berkeley, Calif., this past fall.
·Renewable heating sources. The campus has been conducting test burns of biomass in its 50-year-old coal-fired power plant that produces campus heat and hot water.
Stifter says the tests have been a challenge, but that the plant's seasoned staffers have been crucial to developing a workable mixture of coal and biomass. Some of the hurdles have been as basic as the shape and texture of the hockey puck-sized chips for efficient feeding and burning and the optimum mixture with coal to finding a manufacturer close to campus to offset shipping costs.
"We can accomplish our objective to go off-the-grid with a well thought-out plan," Stifter says. "Our work with the city on this will be to our benefit and what will likely set us a part from other campuses and communities."
RELATED STORIES:
UWRF Setting Pace for Campus, Regional Sustainability
University Center Food Composting Continues Historic Campus Tradition
UWRF's Sustainability Leadership Spans the Globe
Photo, above, left: River Falls Mayor Don Richards, right, and UWRF graduate student Ian Johnson inspect a wind generator measuring device recently erected in north River Falls. The City of River Falls is among the Top 10 nationally in resident purchasing "green blocks" of energy. The wind flow study will last nine months after which the city's "Powerful Choices" program will decide whether to build two wind generators on UWRF Laboratory Farm No. 2 or some other location.
-30-
Last updated: Thursday, 22-Apr-2010 16:09:05 Central Daylight Time