UW-RF Home > University Communications Home > This Month's News Releases
University Communications
For more information contact mark.a.kinders@uwrf.edu or brenda.k.bredahl@uwrf.edu.
Graduates Hear Strong Message of Family Support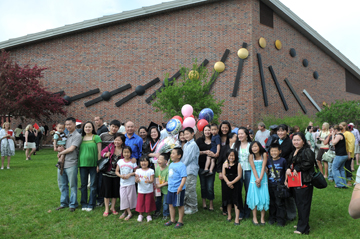 MAY 19, 2008 --Friends and family all across the world watched online at home and at the Robert P. Knowles Recreation Center as almost 700 undergraduate and graduate students walked across the stage to confer their degrees from the University of Wisconsin-River Falls May 17.
Some 611 undergraduates and 72 graduate students were welcomed at two ceremonies by Chancellor Don Betz and congratulated by David Rainville, faculty senate chair and professor of chemistry and Derek Brandt, student senate president and graduating senior with a history major from St. Paul.
"The people who came to see you today- they are your lifeline your support system, those who encouraged you," said Chancellor Betz during his welcome speech. "Today in this moment they are all gathered here at one place in one time in a historic moment - to the families who are here today, we honor what you do, we honor the sacrifices you make."
Brandt congratulated the graduates and recognized the parents for their role in making this all possible. "I'd like to thank the parents in the audience today," he said. "Without your help many of us in the audience including myself, would probably not have been able to make it today. Your hardship and sacrifice were essential; we needed it."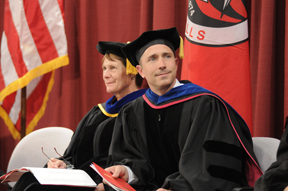 Travis Tubré, a professor of psychology who received the 2008 Distinguished Teacher Award, the highest teaching award conferred at UWRF (photo, left, with Provost Connie Foster, left). Tubré thanked many people who contributing to his success as a teacher, adviser, mentor, and consultant. He mentioned that the love and support he receives at home with his family is instrumental in pursuing his other love, teaching students.
Special recognition was given to David Swensen (below), a 1996 Distinguished Alumnus. Swensen was conferred an honorary doctorate in Humane Letters for the impact that his expertise in economics and finances have had upon the world.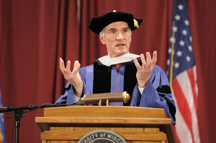 To the graduates, Swensen, who grew up in River Falls, reminisced about his family's long history and close bonds with the university; his father was dean of the College of Arts and Sciences and his mother and other family members graduated from UWRF. "River Falls holds a very special place in my heart," he said. "It's where I fell in love with education."
Swensen holds a Ph.D. in economics from Yale University, where he has spent the last 25 years working as its chief endowment officer. As a investment advisory board member of Cambridge University in England who recently visited the 800-year old institution, Swensen closed his remarks with a story of the three gates at Cambridge: named for honor, humility and virtue. "My advice to you is that leave UWRF with honor, enter the next phase of your live with humility, and attempt to live with virtue."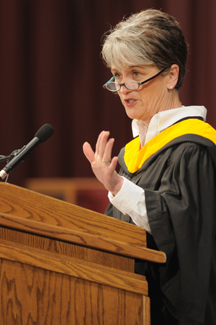 During the afternoon ceremony, Rep. Kitty Rhoades (R-Hudson, left) addressed the graduates as the keynote speaker. Rhoades is serving her fifth term in the Wisconsin Legislature and holds a bachelor's degree in secondary education from UWRF and a master's degree from Illinois State University. She opened her speech with reminiscence about her relatives who started at the River Falls Normal School. "This campus has played a major role not only in our communities, but in my family as well. My great aunt Kate was one of the first of the family to come here, followed by many others."
Rhoades urged the graduates to apply the International Rotary association's four-way ethics test to life's challenges: Is it truth? Is it fair? Is it beneficial to all? And will it build goodwill and friendship? She spoke of preparing her own son to face life's ethical challenges by having him ask those questions.
"You are now facing the knowledge era," she said. "We know we will never be able to teach you the answers that you will need to know because we don't even know the questions that you will be asked. We know that we have given you--as parents and educators--the tools that you need to be able to ask those questions, come up with the right answers, and shape the future that benefits us all."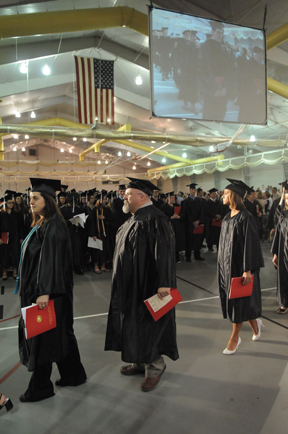 Candidates for degrees were presented by Provost and Vice Chancellor of Academic Affairs Connie Foster, and Dale Gallenberg, dean of the College of Agriculture, Food and Environmental Sciences, Barbara Nemecek, dean of the College of Business and Economics, and Doug Johnson, director of graduate studies at the morning ceremony; At the afternoon ceremony the candidates were presented for their degrees by by Terry Brown, dean of the College of Arts and Sciences, and Faye J. Perkins, dean of the College of Education and Professional Studies. George Hansen, who is assistant director of admissions at UWRF and who holds a B.S (1972) and an M.A. (1979) from UWRF, welcomed each set of graduates into the UWRF Alumni Association.
The students will have their degrees officially conferred in August.
-30-
Last updated: Thursday, 22-Apr-2010 16:09:03 Central Daylight Time