UW-RF Home > University Communications Home > This Month's News Releases
University Communications
For more information contact mark.a.kinders@uwrf.edu or brenda.k.bredahl@uwrf.edu.
Winrock International Volunteer Ranee May Receives Presidential Award

MAY 12, 2008 - An academic staff member from the University of Wisconsin-River Falls was honored with a national award for her international service work with Winrock International in celebration of National Volunteer Week, April 27 - May 3.
Ranee May, a food science instructor and manager of the UWRF Falcon Foods plant, from River Falls, was awarded the President's Volunteer Service Award from the President's Council on Service and Civic Participation.
The award recognizes the best in the American spirit and serves to encourage all Americans to contribute through volunteer service. May has contributed more 4,000 hours of volunteer time during her career in the dairy industry.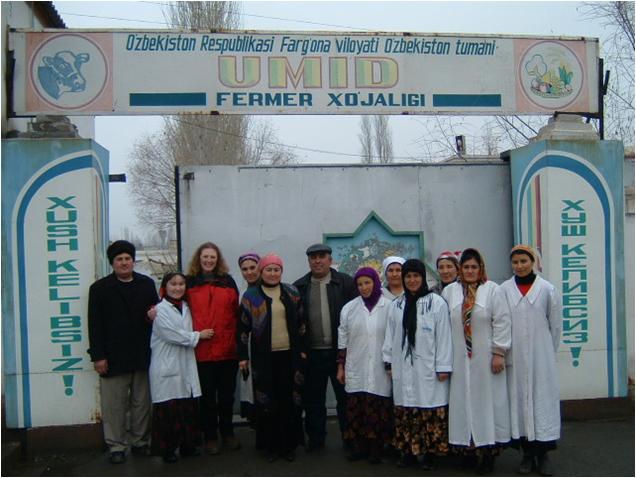 May's specialty is in dairy food processing, and she has worked primarily in underdeveloped countries through Winrock and other organizations. As the dairy plant manager at UW-River Falls, she teaches courses in dairy food manufacturing. As a Winrock volunteer, May has assisted with dairy production in countries such as Turkmanistan, Kazakhstan, Kyrgyzstan, Uzbekistan, Azerbaijan, El Salvador, and others.
Winrock International's John Ogonowski Farmer-to-Farmer Program fields approximately 350 volunteers each year to assist farmers, agribusinesses, and local nonprofit organizations worldwide. The program is named for the pilot of American Airlines Flight 11 that crashed into the World Trade Center in New York City on September 11, 2001. In 2002 the Farmer-to-Farmer Program was renamed to honor Ogonowski's generous efforts on behalf of farming and particularly for his help with immigrant farmers.
Under this program skilled U.S. volunteers provide expertise in a variety of areas, including agricultural sciences, farming, and agribusiness; enterprise development, marketing, international trade, food processing, credit and financing, training, organizational development, and renewable energy.
Since 1991, more than 2,000 Winrock volunteers have completed more than 4,100 technical assignments. Winrock's Farmer-to-Farmer Program currently operates in 25 countries in four regions including Africa, Asia and the Near East, Central Asia, and Latin America. Program funding from the U.S. Agency for International Development (USAID) covers volunteer travel expenses and makes the program possible.
Headquartered in Little Rock, Ark., Winrock maintains offices in Arlington, Va., and field offices in strategic global locations. It matches innovative approaches in agriculture, natural resource management, clean energy, and leadership development with the unique needs of its partnering countries.
Photo, above right : Ranee May, a food science instructor and dairy plant manager at the University of Wisconsin-Rive Falls, teaches a processor in El Salvador how to evaluate the quality of the milk received in the plant. Left: May (red coat) at a dairy processing plant in Uzbekistan that produces cheeses and yogurts.
-30-
Last updated: Thursday, 22-Apr-2010 16:09:02 Central Daylight Time