UW-RF Home > University Communications Home > This Month's News Releases
University Communications
For more information contact mark.a.kinders@uwrf.edu or brenda.k.bredahl@uwrf.edu.
Students Showcase Research in D.C.
By Rachel Hafele
UWRF University Communications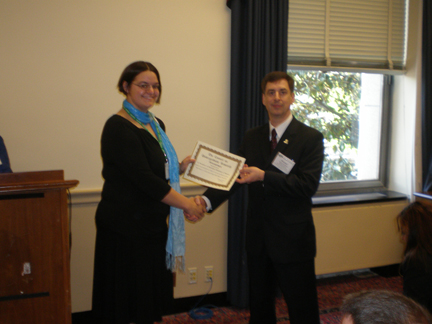 MAY 12, 2008--Two students from the University of Wisconsin-River Falls were invited to display their research at "Posters on the Hill" in Washington D.C. The students, Amanda Liesch and Matthew Blodgett, were selected from among 233 applicants and were two from the 60 chosen to display their work.
"It is rare that a university is invited to display the research work of two students in the same year, but that is what has happened," said UWRF Chancellor Don Betz. "Bravo to Amanda Liesch and Matthew Blodgett and to their faculty mentors, Bill Anderson and Jim Madsen, for earning this opportunity. In doing so, they will focus congressional attention on their research and UW-River Falls as well."
Posters on the Hill helps convey the importance of undergraduate research by allowing legislators to speak with students who have been involved with undergraduate research programs.
Liesch is a senior international studies major from Kaukauna. She displayed her work, "Visual Structure, Vane Shear Strength and Dry Aggregate Distribution in Three Different Organic Matter Treatments." "When I was in Scotland, I worked with a soil scientist at the Scottish Agricultural College," said Liesch. "We are developing a visual test that can be used in the field by farmers and researchers alike. It is kind of an extension-type project." Liesch's advisor. Professor Bill Anderson, teaches in the plant and earth science department on campus.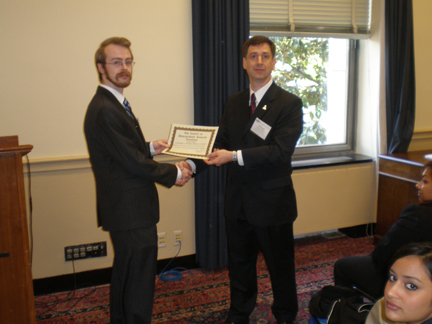 Blodgett is a senior physics major from Boyceville. He displayed an abstract, "Calibrating South Pole Ice Top Detectors Using Tagged Comic Rays." Blodgett's advisor is James Madsen, a professor in the UWRF physics department and one of the international scientists working at the IceCube Neutrino Observatory Project under construction at the Amundsen-Scott South Pole Station and its predecessor, Antarctic Muon and Neutrino Detector Array (AMANDA) Project.
While in Washington, D.C., the students visited the World Bank, the Folder Shakespeare Library and the National Institute of Health on April 29, and exhibited their work April 30.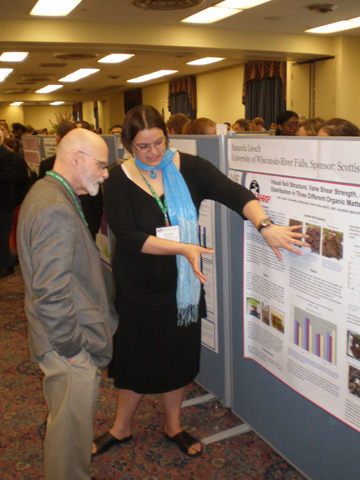 Both students said they were honored to be chosen to participate. "Not only do we have the honor of going, but to have two of us from the same institution is a huge rarity, and it really shows the strength and caliber of our undergraduate research program," said Liesch. "We are so proud of this accomplishment."
-30-
Last updated: Thursday, 22-Apr-2010 16:09:02 Central Daylight Time