UW-RF Home > University Communications Home > This Month's News Releases
University Communications
For more information contact mark.a.kinders@uwrf.edu or brenda.k.bredahl@uwrf.edu.
32nd Annual Colt Sale Sets Record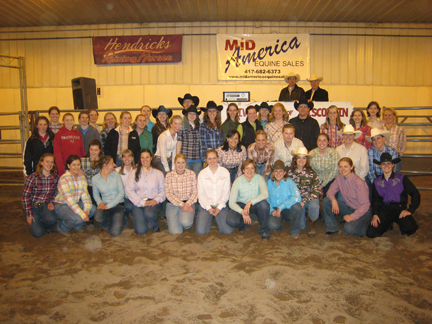 MAY 12, 2008--Almost 500 people who attended the third annual Colts-in-Training Sale May 3 at the University of Wisconsin-River Falls witnessed a record-setting colt sale at the campus Lab Farm No. 1.
A new record of the highest priced horse ever sold at more than three decades of UWRF sales was set when lot No. 28, a bay gelding by Dunnit in Hollywood and ridden by student Jennifer Justin, a junior majoring in animal science from Isanti, Minn., sold for $18,000. The second high seller of the sale, $10,000, was lot No. 18, a bay gelding, ridden by UWRF student Jennifer Cassel, a senior majoring in animal science from Grafton, Wis.
This year's Colts-in-Training class of 46 students, who prepared the colts for the sale, was taught by UWRF instructor Nathan O'Connor. The sale was managed by Mid-America Equine Sales of Lamar, Mo.
The students presented 46 2-year-olds and 10 lesson horses at auction. Buyers from across the United States and Canada were in attendance, with individuals purchasing horses from Missouri, Texas, Oklahoma, Kentucky, Georgia, Wisconsin, Iowa, Minnesota, North Dakota, and Manitoba, Canada.
Photo, above, right: UWRF Colts-in-Training course students, UWRF instructor Nathan O'Connor, and Don Green, who has been the auctioneer at the UWRF sale for the last three years.
-30-
Last updated: Thursday, 22-Apr-2010 16:09:02 Central Daylight Time