UW-RF Home > University Communications Home > This Month's News Releases
University Communications
For more information contact mark.a.kinders@uwrf.edu or brenda.k.bredahl@uwrf.edu.
Students Recognized at Annual UWRF Diversity Banquet
By Annaka Isenberger
UWRF University Communications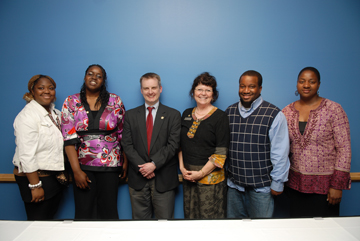 MAY 12, 2008--The 5th annual Diversity Awards Banquet was held April 16 in the University Center to honor University of Wisconsin-River Falls students and staff for their contributions to diversity efforts.
Temi Tayo (Nikki) Shonoiki, a marketing communications major from Minneapolis and chair of the Diversity Awareness Committee, presented the 2008 Diversity Award for Distinguished Staff Member to Njia Lawrence-Porter, of River Falls, who is assistant director of the McNair Program in the Academic Success Center for her work as advisor to the Black Student Union. Nearly a dozen awards were given out over the course of the evening.
Receiving Outstanding Student Volunteer Awards were Antonette Guider, a freshman marketing communications major from Cambridge; Diana Vang, a freshman accounting major from Eau Claire; and Kenny Yoo, a senior journalism major from Brookfield.
The Outstanding Student Leaders Award was given to five students, including: Keila Tirado, a biology major from River Falls, of the Latino Student Organization; Bhavita Patel, ann accounting major from Eagan, Minn ., of the International Student Association, Desi Student Organization, and the Black Student Union; Amanda Johnson, a psychology major from River Falls, of the Black Student Union; Ted Cannady, a agricultural business major from River Falls, of the Black Student Union; and Sanaa Jaman, a double major in chemistry and math from Kuwait, of the Black Student Union.
Guider said the awards ceremony is important to recognize the work of staff and students. " The Diversity Awards Banquet is a wonderful ceremony that recognizes those on campus who strive to keep our campus and community inclusive. This years' turnout was good, but it is not just up to multicultural organizations to fight the battle, it needs to be a campus-wide effort," she said.

Photo, above, right: left to right: Elexis Harris, a pre-professional major from Milwaukee; Nikki Shonoiki, a marketing communications major from Minneapolis; Blake Fry, UWRF Special Assistant to the Chancellor; Linda Alvarez, UWRF Multicultural Services; Anthony Anderson of Milwaukee; Njia Lawrence-Porter, UWRF McNair Program at the Diversity Awards banquet on campus.
-30-
Last updated: Thursday, 22-Apr-2010 16:09:02 Central Daylight Time